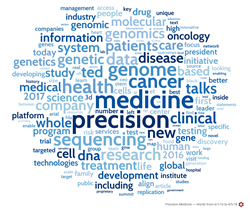 INDIANAPOLIS, Ind. (PRWEB) April 10, 2018
LifeOmic, a leading provider of cloud-based precision health software, mobile health apps and security solutions for SaaS companies, today announced the LifeOmic Precision Health Cloud earned Certified status for information security by HITRUST.
HITRUST CSF Certified status demonstrates that LifeOmic's platform for precision medicine, a repository that leverages diagnostic decision support and artificial intelligence to analyze and drive discoveries from all kinds of patient data, including genomic, lab result, image and patient generated data, has met key regulations and industry-defined requirements and is appropriately managing risk. This achievement places LifeOmic in an elite group of organizations worldwide that have earned this certification. By including federal and state regulations, standards and frameworks, and incorporating a risk-based approach, the HITRUST CSF helps organizations address these challenges through a comprehensive and flexible framework of prescriptive and scalable security controls.
"LifeOmic is committed to delivering the most secure cloud platform to protect our customers' patient data," said Erkang Zheng, LifeOmic's Chief Information Security Officer. "We have focused on security from day one. Our Precision Health Cloud operates in a virtually air-gapped production environment in AWS, built on a fully automated, zero-trust security architecture. In addition to being HIPAA compliant, our commitment to security is once again demonstrated by achieving the HITRUST CSF Certification, without a single corrective action plan across all the controls tested."
"HITRUST has been working with the industry to ensure the appropriate information protection requirements are met when sensitive information is accessed or stored in a cloud environment. By taking the steps necessary to obtain HITRUST CSF Certified status, LifeOmic is distinguished as an organization that people can count on to keep their information safe," said Ken Vander Wal, Chief Compliance Officer, HITRUST.
About LifeOmic:
LifeOmic is a software company that leverages the cloud, machine learning and mobile devices to offer disruptive solutions to healthcare providers, researchers, health IT companies, and to patients themselves. We make it possible to securely aggregate clinical, genomic, imaging and lifestyle data for millions of patients and use this data to make discoveries and guide precision health. We provide our services as an inexpensive monthly subscription in which all data belongs to our customers, not us.