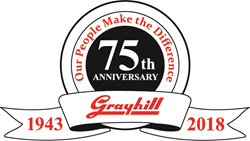 LA GRANGE, Ill. (PRWEB) April 10, 2018
By 1901 the railroads and telegraphs of the steam age spread long tendrils from places like New York, Los Angeles, and Chicago, driving innovation along the steel rails into deep country. That same year, the Chicago Burlington and Quincy built its station in La Grange, Illinois - a sleepy escape thirteen miles from Chicago - and connected what was once a farming community to the big city. Not many then liked it but they made do and a suburb sprouted up full of quiet shops and friendly neighbors, all centered on the sloped, Norwegian-inspired La Grange station.
Forty years and nearly two World Wars later, two men stood under the "mottled, fire-flashed pressed brick" roof of the La Grange station and spread innovation back out to the world. They were Ralph Hill and Gordon E. Gray, Sr., business partners who started building mechanical switches for heavy-duty users in a two-car gasoline station in nearby Riverside. Grayhill, then called Hill and Gray, was Hill's baby and he and his wife Bernice spent their evenings manufacturing switches and dials for the war effort.
In the mid-1940s the pair built a unique rotary switch designed for submarines. The massive object - it looks like a contact-studded thermos and is made of copper and hard plastic - looks like it could survive a nuclear blast. It clunks from position to position with a gravity and completeness that is nearly impossible to find in today's mechanical devices and it still works as well as it did the day it was assembled.
Today the company still makes high-duty switches, controls, and rotary dials for mission-critical products and it still manufactures most of them right in La Grange. In fact, the company is headquartered in the same converted bowling alley that they used since the 1950s. If you look into any modern jet cockpit you'll see Grayhill switches running all up and down the control panel, ready to lift flaps and cock landing gear at a moment's notice. Grayhill, it could be said, means business.
Now, however, they're expanding into something a bit more 21st century. With this expansion comes risk and the future of Grayhill may be as uncertain - and as exciting - as it was back in 1943.
What's New?
This year Grayhill added a new product to the mix, a unique Touch Encoder that will remind some of higher-end thermostats or Minority Report-style sci-fi controllers. However, this new invention is in a league of its own.
TE New Bezel
The Touch Encoder is, quite simply, a dial. The outer edge is made of rugged metal and is delicately knurled in a cross-hatch pattern. Its face, however, is a touch sensitive surface coupled with a rugged LCD that turns a simple knob into a truly revolutionary interface device.
The Encoder is two inches in diameter and has a round 1.3-inch 320x300 color screen. Designed to survive in nearly any environment, it is sealed to IP67 standards - essentially an indicator of dust and water resistance - and it can survive chemical baths and high impacts. Because the company makes switches and inputs for medical devices and the military, a tool like the Touch Encoder is as rugged as anything Gray and Hill could have dished out to WWII sailors and pilots back in the 1940s.
What can you do with it? The Touch Encoder can output readings based on how a user spins the dial. But, thanks to the LCD, these outputs can control various aspects of a system. For example, you can tap the dial to wake up a microwave then swipe left or right to select a certain setting like time or temperature. A quick twist of the dial sets the control to the right setting and then another tap can start the cooking process. This unique interface means you can reduce the total number of switches and ensure that anyone - from parents to kids to engineers - can see and understand just what they're controlling.
Interestingly, Grayhill has never been big on branding. Now, however, the company is working hard to make the Grayhill Touch Encoder a "thing." Their traditional targets - manufacturers of high-end industrial, health, and military equipment - are still going to be getting their tried-and-true switches but they want new customers to see Grayhill in a new light.
To that end the team has built a mechanical testbed for the Touch Encoder along with an iOS app (Android will follow shortly.) This testbed/app combo lets tinkerers connect the Encoder to computers or single-board systems like Raspberry Pi and Arduino. Rather than depending on push buttons or touchscreens, a tool like the Touch Encoder can literally change the face of physical user experience overnight. Grayhill is in a unique position to carry this revolution to fruition.
Grayhill will also be marketing the Touch Encoder with a unique twist. Rather than selling it in the same way they've sold their switches and dials in the past, they will be launching a Kickstarter in order to expand the product into new markets and get it in front of tech enthusiasts and makers. Because it is such a unique product, it doesn't lend itself to the long sales times associated with government and industrial clients. Instead it will be as sprightly and fast-moving as anything found on Adafruit.com or inside the pages of Make Magazine.
Innovation once flowed out from central hubs. Now it flows from everywhere. Grayhill has a long history of capturing that flow and leading multiple industries in best practices and technologies. Now this little switch company from La Grange, Illinois is switching things up in an effort to change the way we interact, use, and build electronics.
Their effort, epitomized in this new Touch Encoder, points to a bright and fascinating future for electronic interfaces. Gray and Hill would have been pleased.
About Grayhill
Grayhill, Inc. is a privately held firm which designs and manufacturers intuitive human interface solutions that make life simpler, safer and more efficient. Standard products include optical and hall effect encoders, discrete and hall effect joysticks, rotary switches, keypads, and pushbuttons; all with finely tuned haptics. Grayhill specializes in creating ergonomic panels and product shells that integrate various interface technologies, including displays, our components, and gesture recognizing multi-touch technology. With headquarters in La Grange, Illinois, and multiple state-of-the-art facilities around the world, Grayhill's team has the full engineering, product development and manufacturing expertise to deliver both standard and customized products quickly and cost-effectively. To learn more about Grayhill's products and capabilities, visit http://www.grayhill.com or email info(at)grayhill(dot)com.
Written by John Biggs
John Biggs is an entrepreneur, consultant, writer, and maker. He spent fifteen years as an editor for Gizmodo, CrunchGear, and TechCrunch and has a deep background in hardware startups, 3D printing, and blockchain. His work has appeared in Men's Health, Wired, and the New York Times. He runs the Technotopia podcast about a better future. He has written five books including the best book on blogging, Bloggers Boot Camp, and a book about the most expensive timepiece ever made, Marie Antoinette's Watch. He lives in Brooklyn, New York.