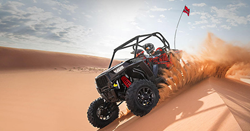 The award winning side by side is both a champion off-road vehicle, and a representation of Polaris' commitment to grassroots racing.
NORTH ADAMS, Mass. (PRWEB) April 10, 2018
RacingJunk.com, the world's leader in automotive motorsports and performance related classifieds, and the United States Motorsports Association (USMA) are both staunch advocates for grassroots racing. That's why RJ partnered with the USMA at the beginning of March to help spread the word about its SAVE GRASSROOTS RACING™ campaign (https://www.saveracingRJ.com/).
To raise awareness and funding for the efforts, a 2018 Polaris RZR 1000 is being raffled off. The award winning side by side is both a champion off-road vehicle, and a representation of Polaris' commitment to grassroots racing. Everyone can participate and support the campaign by becoming an Official Member of the USMA, which also comes with 20 Raffle tickets, or by purchasing individual raffle tickets. Together we will secure the future of grassroots racing.
Since the campaign itself is a petition-driven effort to unify all types of motorsports enthusiasts and supporters in educating lawmakers, RJ is encouraging users and supporters to sign the petition for racing, which will keep people up to date on the latest issues facing the nation and your local area. There is no cost to sign the petition and have your voice heard. And best of all, RacingJunk.com is offering one free raffle ticket for those who sign up. To get registered visit: http://www.SaveRacingRJ.com and be sure to enter promo code: RJ to get the free ticket.
Jim Sweener, Director of Sales for RacingJunk, said, "The USMA's SAVE GRASSROOTS RACING™ campaign is part of a larger effort to bring together racing enthusiasts from all of the different regional and national elements of racing, something we fully support. The organization helps racers know what's happening at home in their communities and on a national level so they can advocate for their sport."
To learn more about the USMA, visit their website at https://www.unitedstatesmotorsports.com/. For more information on RacingJunk.com, go to http://www.racingjunk.com.
About RacingJunk:
The flagship website of Motorhead Media, Racingjunk.com is a "one-stop shop" for those looking to buy, sell, trade or interact with people throughout the automotive racing and performance communities. With over 850,000 registered members and 28,000 classified ads, the website generates more than two million visits each month.
About the United States Motorsports Association:
The USMA is a 501(c)4 nonprofit organization that was formed in 2015 by a coalition of industry businesses including Lucas Oil, Safety Kleen, Optima Batteries and others, who recognized the need for greater organization, data, and state/local level advocacy for grassroots racing. The USMA serves as a unified voice for grassroots racing across the country with a focus on providing tools and resources that support all forms of competitive racing.