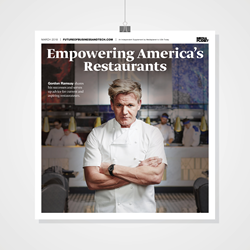 A great restaurant will recognize locals instantly, how much time they have to dine in that restaurant...
NEW YORK (PRWEB) April 09, 2018
Covering topics like food waste and sustainability, social media, front-of-house point of sale and back-of-house equipment, safety and sanitation, education, and finances, Mediaplanet's "Empowering America's Restaurants" campaign digs into the newest trends, proper tools, solutions, education and technology available to succeed and properly run a restaurant business. This campaign highlights the challenges chefs, restaurants and their owners must consider, and provides helpful advice and insight from the industries investing in the next era of dining in or carrying out.
For the first time in U.S. history, consumers are spending more money at restaurants than at grocery stores, with 57 percent of Americans eating at a restaurant at least once a week. With the restaurant industry growing and becoming more prevalent every year, industry sales reached $799 billion in 2017, with 1 million+ restaurant locations in the United States. That said, it's important to understand how the restaurant industry plays a vital role in both the lives of ordinary Americans and the U.S. economy.
However, 59 percent of restaurants fail within the first three years. This creates the question: how can restaurants overcome the challenges that cause over half to fail initially? World-renowned chef and restaurateur Gordon Ramsay recommends attention to detail. "A great restaurant will recognize locals instantly, how much time they have to dine in that restaurant," he notes. "Then, for me, it's all about attention to detail - the specials to the cocktails to the lighting to the music to the seating arrangements." Ramsay is joined by Guy Fieri, Christina Tosi, Jon Taffer, Mashama Bailey and other food world superstars to offer firsthand tips and tricks on success in this industry.
The print component of "Empowering America's Restaurants" is distributed within USA Today, with a circulation of approximately 250,000 and an estimated readership of 750,000. The campaign will also be distributed to a number of industry conferences and event, including the Nightclub & Bar Show in Las Vegas. The digital component is distributed internationally, through a vast social media strategy and across a network of top news sites and partner social media platforms. To explore the digital version of the campaign, head to Mediaplanet's Future of Business and Tech website.
This campaign wouldn't be possible without support from industry partners National Restaurant Association, National Restaurant Association Educational Foundation, Sustainable Restaurant Association, Eater, American Culinary Federation, Nightclub & Bar Media Group, Women Chefs & Restaurateurs, Research Chefs Association, U.S. Small Business Administration, National Food Truck Association, Green Restaurant Association, 412 Food Rescue, Turbo Air, Inc., HotSchedules, Hoshizaki America Inc., Welbilt, Caviar, ezCater, Chef Works, Steritech and TouchBistro, Milk Bar, Katz's Deli and The Grey Restaurant.
About Mediaplanet
Mediaplanet is the leading independent publisher of content-marketing campaigns covering a variety of topics and industries. We turn consumer interest into action by providing readers with motivational editorial, pairing it with relevant advertisers, and distributing it within top newspapers and online platforms around the world. Our unique ability to pair the right leaders with the right readers, through the right platforms, has made Mediaplanet a global content marketing powerhouse. Just call us storytellers with a purpose. Please visit http://www.mediaplanet.com for more on who we are and what we do.
Press Contact:
Mila Hudson
mila.hudson(at)mediaplanet.com
(646) 619-3302