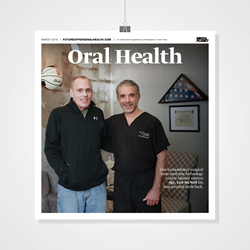 With all of the available tools and resources at our disposal, oral health should be something that we pay attention to daily.
NEW YORK (PRWEB) April 09, 2018
We spend so much time and money taking care of our bodies, yet we consistently put oral health last on our list. 82 percent of American adults are unaware of the dangers that infectious bacteria play in mouth disease and 47.2 percent of Americans aged 30 years and older have some form of periodontal disease. The ramifications of improper oral upkeep go beyond bad breath and yellow teeth, with adults missing 164 million hours of work each year due to dental issues. With all of the available tools and resources at our disposal, oral health should be something that we pay attention to daily.
It has become crucial to educate the public on the effects of improper oral care while also bringing oral health professionals together to showcase the new and innovative technology available in the industry. From one team's extraordinary work using dental surgical technology to give a war veteran his smile back to the ins and outs of oral cancer screening and the effects of gum disease, "Oral Health" aims to showcase the technology available to oral health professionals. They use this technology to ensure their patients' oral health will not negatively impact their overall health.
The print component of "Oral Health" is distributed within the March 30th regional circulation of USA Today, with a circulation of approximately 250,000 copies and an estimated readership of 750,000 within the New York, Los Angeles, Atlanta, Denver, Chicago, Washington DC and Baltimore markets. The digital component is distributed nationally, through a cast social media strategy, and across a network of top new sites and partner outlets. To explore the digital version of the campaign, click here.
This edition of "Oral Health" was made possible with the support of the American Dental Association (ADA), American Association of Oral and Maxillofacial Surgeons (AAOMS), American Academy of Pediatric Dentistry (AAPD), Oral Health America (OHA), American Academy of Periodontology (AAP), Dental Lifeline Network (DLN), Zimmer Biomet, Ranir, Plackers, Quip, Mortenson Dental Partners, X-Nav Technologies, and Affordable Dentures & Implants.
About Mediaplanet
Mediaplanet is the leading independent publisher of content-marketing campaigns covering a variety of topics and industries. We turn consumer interest into action by providing readers with motivational editorial, pairing it with relevant advertisers and distributing it within top newspapers and online platforms around the world.
Press Contact:
Sophia Oramas
sophia.oramas@mediaplanet.com
646.922.1406