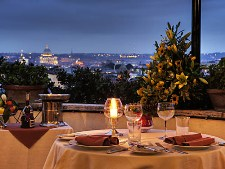 Rome's Bettoja Hotels represent a tradition of fine food and warm personal service which has continued through five generations..
ROME, Italy (PRWEB) April 12, 2018
Imagine starting married life with a glass of Prosecco on your private, spacious balcony overlooking an extraordinary view of Rome. The Hotel Mediterraneo, part of the Bettoja Hotel Group, has just announced a new honeymoon package based on a two-night minimum stay in one of its top-floor suites. Upon arrival, newlyweds will be treated to strawberries, Prosecco and a welcome gift. Also included is daily breakfast, one dinner at the Roof Garden restaurant, a tour of the city and the option for early check-in and late check-out (subject to availability).
The 10-story Art Deco Mediterraneo is the tallest hotel in the walled city of Rome, and the flagship Bettoja property. It stands on Esquilino, the highest of Rome's seven hills. There are seven luxurious presidential suites on the top floor, all with large balconies. Each has been carefully designed and decorated by a member of the Bettoja family, with a close eye on comfort and style. The luxurious bathrooms all have Jacuzzi tubs. In one suite, a still-life painting hangs over a comfortable couch of deep green brocade in the living room. A charming alcove adjoins the bedroom, which opens onto a flower-lined terrace framing a view of the city.
All tenth-floor suites have terraces trellised with shrubs and flowers, not to mention incredible views, including one of St. Peter's Basilica. They are known as some of the city's most sought-after—yet still affordable—suites. If your budget is not presidential, there are junior suites available: They are equally spacious and offer the same amenities, minus the balcony.
Also on the top floor is the Roof Garden Restaurant, which has a retractable roof that opens in the summer. From its terrace, there is a nearly 360-degree view of Rome, from St. Peter's to St. Mary Major to the Apennine Mountains. A generous breakfast of eggs, fruit, croissants and cappuccino is reserved for those guests in superior or suite rooms and is included in the room rate. It is the perfect way to start the day in the Roman sunshine. In the evenings, the terrace is open for cocktails and dinner.
Not only are the suites some of the best accommodations in Rome, the location of Hotel Mediterraneo couldn't be better: It's within walking distance from the Colosseum, Opera House, Forum, Trevi Fountain and Spanish Steps. The Stazione Termini, convenient for train excursions to Florence or Naples, is a few blocks away. The Mediterraneo is perfectly situated for exploring the Eternal City by metro, bus or on foot.
The 2018 honeymoon package, valid through December 31, 2018, includes the following:
*Accommodations in a tenth-floor suite
*Roses, strawberries and Prosecco upon arrival
*Candlelit dinner at the Roof Garden restaurant
*Full-day city tour
*Deluxe daily breakfast
*Gift from the Bettoja Hotel Group
*Early check-in and late check-out (subject to availability)
*Fitness center and Wi-Fi access
€750 per person (includes VAT and services, excludes tourist tax), based on a two-night minimum stay; for longer stays contact sales@bettojahotels.it
ABOUT HOTEL MEDITERRANEO
Hotel Mediterraneo was built in 1936 and blends museum-worthy Art Deco design and furnishings (including a stylish marble staircase) with historical touchstones such as maps, prints and marble busts of Roman emperors. Set on Esquiline Hill, the highest of Rome's seven hills, the ten-story hotel is among the highest buildings in Rome's center and affords sweeping views of the city from its rooftop bar and terrace suites. The hotel's spacious 251 rooms vary in décor and all feature graciously high ceilings and modern, new marble bathrooms. Free Wi-Fi and a fitness center are also available to all guests.
Hotel Mediterraneo is part of the Bettoja Hotel Group, which also includes Hotel Atlantico and Massimo D'Azeglio. They are all within one block of each other, and the Atlantico is connected to the Hotel Mediterraneo. There are three fine restaurants, Massimo D'Azeglio, Restaurant "21" and the Roof Garden. The tradition of good food and warm, personal service has continued through five generations; many of the present staff members are second and even third generation. The family and staff have not wavered from their promise to maintain high standards and offer good value to their guests from around the world.
For reservations: 1-800-783-6904 or sales(at)bettojahotels.it
Web site: http//http://www.bettojahotels.it
For press inquiries contact: Martha Morano, Morano Public Relations, 212-860-5566, Martha(at)moranopr.com