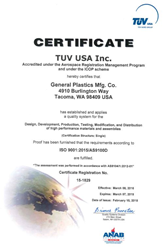 TACOMA, Wash. (PRWEB) April 09, 2018
General Plastics Manufacturing Company, a leading supplier of high-performance polyurethane foam products and build-to-print composite parts, was recently certified to the Aerospace Quality Standard AS9100 Rev. D. The renewal of its AS9100 certification reaffirms its commitment to the rigorous standards of its aerospace customers, and benefits customers within other industries that have stringent quality requirements.
Sponsored by major original equipment manufacturers (OEMs), AS9100 Rev. D is a global quality management system standard based on ISO 9001:2015. General Plastics earned its original AS9100 certification in 2006 and its Rev. C renewal in 2011. To meet the more stringent requirements of AS9100D, the company performed a top-down gap analysis examining its existing quality system, and identified processes to be updated. Due to the company's support in many other industries beyond aerospace, it wanted to keep all changes in alignment with other quality standards, such as NQA-1 for the nuclear industry, and TS 16949 for automotive.
Meeting these quality standards does more than simply assure customers that the company's products are safe and reliable, it ensures its processes and controls are effective. Retaining this certification is evidence that continuous improvement and continually exceeding customers' expectations permeates General Plastics' culture at every level.
"AS9100D is widely viewed as requiring the most significant and challenging improvements compared to prior revisions of the standard. It builds on prior revisions that focus on products, materials or manufacturing operations," said Joel Landoe, General Plastics' quality manager. "Where AS9100B and AS9100C moved the standard from a compliance-based to a process-based quality system, AS9100D brings in the human factor. This allows us to adapt our system to support the most important part – our employees."
For example, new language in the standard focuses on "process outputs" rather than the old language of "products." Landoe explains that this helps General Plastics drive improvements into every aspect of the business, including IT, marketing, and many different communication-related processes that may not have gotten as much attention.
"We were aggressive in performing gap assessments early, and hiring outside industry consultants to help guide our process," he said. "This resulted in a very successful audit, with some very positive feedback from our outside auditors. It will help us continue to elevate the customer experience, satisfy even unarticulated needs, and ensure that we perform at the highest possible levels."
About General Plastics Manufacturing Company
Tacoma, Washington-based General Plastics Manufacturing Company has been a leading innovator in the plastics industry for more than 75 years. The company develops and manufactures rigid and flexible polyurethane foam products, which include its signature LAST-A-FOAM® brand series and build-to-print composite parts.
Directly or through its network of distributors, General Plastics serves the aerospace and defense, nuclear packaging, composite core, prototype and modeling, construction, dimensional signage, testing and marine industries. General Plastics is certified to ISO 9001:2008/AS9100D, Nadcap-accredited (AC7130 Rev. A and AC7130/1 Rev.), and meets the rigorous demands of numerous leading quality systems, which include NQA-1, Mil-I-45208A and Boeing Company D6-82479. Please visit http://www.generalplastics.com.