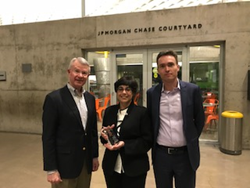 Populytics uses its proprietary data analytics system to derive insights that positively impact quality of care, efficiency of resources, and care delivery at LVHN's multi-campus health system.
ALLENTOWN, Pa. (PRWEB) April 10, 2018
Lehigh Valley Health Network (LVHN) was awarded the 2018 AMGA–Optum Award for Innovation in Population Health on March 8, 2018, during AMGA's Annual Conference in Phoenix, AZ. Sponsored by the American Medical Group Association (AMGA) and national health services and innovation firm, Optum, the award recognizes pioneering work in the field. Populytics, Inc., wholly owned subsidiary of LVHN, and regional population health management and analytics firm, spearheads the innovative work that made receipt of the award possible. According to sponsors, it is "a direct attestation to the positive outcomes LVHN and Populytics have had in improving the health of patients, as well as advancing the business model for population health."
Working in concert with LVHN for more than five years, Populytics uses its proprietary data analytics system to derive insights that positively impact quality of care, efficiency of resources, and care delivery at LVHN's multi-campus health system. "Populytics has created a system of clinically based predictive modeling, built on the Optum One population health analytics platform, to implement improvements in care," says Gregory G. Kile, Chief Insurance Officer at LVHN and President and CEO of Populytics. "LVHN care coordination/ population health teams use the data insights to prioritize outreach, tailor care for patients with chronic health conditions, and to avert hospitalization and emergency department visits. The ultimate goal is better health, care, and value for all patients."
Nina Taggart, MD, MA, MD, MBA, FAAO, Senior Medical Director of Accountable Care at the LVHN-aligned Lehigh Valley Physician Hospital Organization (LVPHO), accepted the AMGA-Optum award on behalf of LVHN and Populytics. She is one of many individuals who have been directly involved in creating and implementing the process by which Populytics' data is interpreted and applied. "Insights from our data give LVHN physicians information they can use to directly affect patient care, and that is the key to achieving our goals in population health," says Dr. Taggart. "We support clinicians' efforts on many levels through LVPHO, which partners with Populytics in analytics as well as clinical integration and care coordination."
Populytics' data has been instrumental in making measurable improvements at LVHN, and in creating a culture of higher quality and value for its patients and medical providers. Some highlights include a drop in emergency department utilization (down 7.3% in 2017); a drop in emergency department utilization for end stage renal disease (down 27%); and significant savings from pharmaceutical stewardship (almost $1 million).
For more information on LVHN, visit https://www.lvhn.org. To learn more about Populytics and population health, visit http://www.populytics.com
About Lehigh Valley Health Network
Lehigh Valley Health Network includes eight hospital campuses - three in Allentown including the region's only facility dedicated to orthopedic surgery, one in Bethlehem, one in East Stroudsburg, one in Hazleton and two in Pottsville, Pa.; 22 health centers caring for communities in seven counties; numerous primary and specialty care physician practices and 19 ExpressCARE locations throughout the region including the area's only Children's ExpressCARE at the Health Center at Palmer Township; pharmacy, imaging, home health services and lab services; extensive inpatient and outpatient rehabilitation services; and preferred provider services through Valley Preferred. Specialty care includes: trauma care at the region's busiest, most-experienced trauma center treating adults and children, burn care at the regional Burn Center, kidney and pancreas transplants; perinatal/neonatal, cardiac, cancer care, orthopedics, and neurology and complex neurosurgery capabilities including national certification as a Comprehensive Stroke Center. The LVHN Cancer Institute, the LVHN Heart Institute and the LVHN Institute for Special Surgery give clinicians of the highest caliber the necessary infrastructure, programs and partnerships to help community members stay healthy and provide the most advanced treatment when needed. LVHN's Cancer Institute is a formal member of the Memorial Sloan Kettering (MSK) Cancer Alliance, a transformative initiative to improve the quality of care and outcomes for people with cancer in community health care settings, including access to key MSK clinical trials. Robotic surgery is offered in ten specialties across the health network with more than 10,000 procedures performed since 2007. Lehigh Valley Children's Hospital, the only children's hospital and Level 4 NICU in the region, provides care in more than 30 specialties and general pediatrics. Lehigh Valley Hospital–Cedar Crest has been recognized by U.S. News & World Report for 22 consecutive years as one of America's Best Hospitals. Lehigh Valley Hospital–Cedar Crest, Lehigh Valley Hospital–17th Street and Lehigh Valley Hospital–Muhlenberg are national Magnet hospitals for excellence in nursing. Additional information is available at lvhn.org and by following us on facebook.com/LVHealthNetwork and twitter.com/LVHN.
About Populytics
Populytics, Inc. is a population health management and analytics company built with a unique depth of professional experience and advanced technology to support health care providers' transition into, and perform successfully, in the new environment of value based care and risk sharing. Its services enable appropriate health care services and quality outcomes while bending the cost curve. Populytics' fundamental strengths are manifested in a multitude of resources synchronized to work together toward the defined clinical and financial goals of our clients and partners. Learn more at http://www.populytics.com.