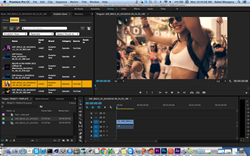 Seamless integration between the on-premises and cloud environments complemented by a truly differentiated set of products will change how people work in a really exciting way said Brian Ahearn, Evolphin CEO
LAS VEGAS (PRWEB) April 10, 2018
NAB 2018 promises to be the best yet! This year Evolphin is announcing an extensive range of new products, services and business models. The design philosophy is centered on the goal of seamlessly bridging the gap between on-premises and the cloud, particularly for demanding video production workflows. Evolphin Zoom delivers absolute flexibility and responsiveness in terms of deployment models, new features and functions, and above all, tight integration with a multitude of preferred applications. The new set of Evolphin products simplify and streamline the entire workflow of content capture, processing and distribution.
NAB 2018 highlights include:
1. Multiple deployment models supported by flexible business models; cloud, on-premises and hybrid
Evolphin Wave: A pure cloud-based SaaS business model providing lightweight review and approval for small-to-medium-sized companies including an easy-to-use drag and drop interface.
VideoLX Hybrid: A managed service business model providing on-premises storage synced with a cloud-based MAM and including the Evolphin Transcoder, a software transcoder which automatically generates proxies of high-res video.
Zoom Custom Cloud: A managed service business model providing a custom deployment solution combining on-premises and cloud infrastructure as needed, for large enterprises.
2. Exciting new capabilities leveraging Artificial Intelligence and Machine Learning.
Evolphin Zoom uses machine learning in two ways:
Discover on ingest
The Zoom ingest server can copy a video proxy or an image to cloud storage and then invoke the Google Video intelligence or Amazon Rekogniton API. The APIs take this copy, execute an analysis, and then return metadata, which is then processed by the Evolphin MAM to set metadata tags in a custom metadata group therefore distinguishing it from human curated groups.
Analyze on demand
Using the Evolphin Zoom Asset Browser, a user can right click on any file and automatically send a proxy of the asset to either the Google or Amazon machine learning services. Running as a background process, once Evolphin Zoom receives the response, Zoom will automatically tag the content into preconfigured metadata fields for easy search and retrieval.
3. Enhanced Plugin Features
With the latest updates to the Evolphin plugins for Adobe applications, including Adobe After Effects® CC, Adobe Photoshop® CC, Adobe Illustrator® CC, and Adobe InDesign® CC, editors and creatives can save more time, avoid frustration and become more productive than ever. For remote workers or those working on lower-powered machines, the plugin for Adobe Premiere® Pro CC and Adobe After Effects CC allows switching between high res, mezzanine, and low res versions of videos with the click of a button. From within the application, and leveraging any browser, users can export their work directly to Evolphin Collections, making it available to other stakeholders to view, comment, and approve. Comments are synced immediately back to the creative application and therefore creating a more effective collaborative process; waiting for feedback is no longer the time intensive part of the creative process that it once was.
4. Exciting New Product Features
LiveDraw in Web Collection provides the ability to create a real-time collaborative commenting/markup session with multiple images in a contact sheet
Video Subclipping in the Evolphin Web Client enables the user to mark in/out points in the video player, sub-clip a new video, and then download it.
Mobile UX for Web Apps Evolphin Web Client Apps are even more accessible as a responsive HTML5 web app from a mobile web browser supporting both iOS & Android devices without the need to install a separate app
360 Video Playback 360-degree videos can be played in the Web Client and Web Collections video player, enabling creatives pushing the boundaries of content formats to review, comment, and approve 360-degree video. Our video commenting tools have been reworked for 360, and commenters can now draw within the 360 video to mark it up.
Evolphin will be demonstrating its products and services offerings at this year's NAB tradeshow in Las Vegas. Visitors are welcome to drop by the Evolphin Booth SL10227 to get more information or to begin working with us immediately. Additional information is available on our website at http://www.evolphin.com
About Evolphin and Zoom
Evolphin Software is focused on Media Production and Collaboration with a global footprint and a suite of products delivering a unique and highly functional approach to the creation, management and distribution of digital content.