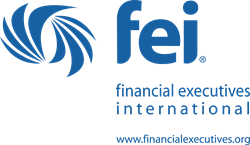 This year's event joins current and next generation financial leaders with well-known industry pundits offering invaluable insight on how to succeed, not just in the financial fields, but in any professional and personal endeavor.
MORRISTOWN, N.J. (PRWEB) April 10, 2018
Financial Executives International (FEI), the association of choice for CFOs and other senior-level finance executives, today announced that registration is open for the 2018 Financial Leadership Summit. The event will be held at the Marriott Marquis Downtown in Houston, Texas, from May 20 to 22. Attendees are eligible to receive up to 14.5 CPE credits to meet NASBA Standards requirements. For full agenda details and to register, visit financialexecutives.org/summit.
More than 500 financial executives are expected to join FEI this year for the Summit, themed "Excellence in Financial Leadership." The agenda includes professional development programming providing management skills as well as practical solutions training across various topics from technology integration and use to insight into tomorrow's CFO role.
Keynote speakers include:

Mel Robbins: Learn from the award-winning CNN contributor, best-selling author and life coach who teaches the 5 Second Rule—a personal management and motivation technique designed to help individuals seize opportunities and achieve goals.
Scott Parazynski: As a former U.S. astronaut, he'll share experiences in leadership emergence under adverse conditions, helping professionals learn how to thrive in even the most challenging of conditions.
Seth Mattison: Co-founder and chief movement officer of Luminate Labs, he'll share how he advises leading brands and organizations on important industry trends in innovation and talent management.
"The FEI Financial Leadership Summit continues to be one of the most preeminent education and networking events for the finance profession. As with prior Summits, this year's event joins current and next generation financial leaders with well-known industry pundits offering invaluable insight on how to succeed, not just in the financial fields, but in any professional and personal endeavor," explained Andrej Suskavcevic, CAE, President and CEO of FEI. "Our agenda this year tackles a broad set of topics from the practical day-to-day to the high-level strategic issues guaranteed to build better professionals. And, attendees can learn about the newest products and services on the Expo Floor. This is a unique opportunity to learn from the best, and we're proud to bring it together for the profession."
Innovation tracks address critical issues with real-world examples, and will cover the following areas:
How Texas Does It: Faced with challenges, you'll gain insights and learn the leadership lessons that those in Texas have dealt with this past year.
Tomorrow's CFO: Experts address hidden financial risks in the current and future business models as well as the importance of embracing the use of next-gen analytics in the age of digital transformation.
Technology: The importance of and techniques for vetting data quality as well new technologies available to financial professionals will be available in a hands-on learning lab.
Finance Skills: From the new lease accounting standard to internal fraud indicators, along with major changes on FASB's docket that will affect day-to-day responsibilities.
Post-conference Workshops
FEI will host two post-conference workshops. These three-hour programs will provide extended training in their respective subject matters and offer 3.5 CPE credits per course.
IPsP™ Integral Psychological Profile Assessment Leadership Workshop: Driven by Dennis Rebelo, Ph.D., this interactive workshop helps individuals better understand their professional core competencies as well as how to develop a plan to strengthen and benefit from them.
Data Analytics Workshop: Driven by Withum Digital's partner Dale Tuttle and data scientist John Tate, this workshop will introduce current trends and capabilities of data analytics as well as techniques to leveraging these technologies for business performance improvements.
Financial Executive of the Year Award Ceremony
The annual recognition program hosted by FEI will culminate with a celebratory ceremony during the Summit's opening reception, Denim & Diamonds, on Sunday, May 20 at 6:00 p.m. Winners of this year's awards will be announced shortly.
About FEI
Financial Executives International (FEI) is the leading advocate for the views of corporate financial management. Its more than 10,000 members hold policy-making positions as chief financial officers, treasurers and controllers at companies from every major industry. FEI enhances member professional development through peer networking, career management services, conferences, research and publications. Members participate in the activities of more than 65 Chapters in the U.S. and a Chapter in Japan. FEI is located in Morristown, NJ. Visit http://www.financialexecutives.org for more information.
Media Contacts:
Claudine Cornelis
Crimson Communicates
845.424.6342
claudine(at)crimsoncommunicates(dot)com
Lili DeVita
FEI
973.765.1021
ldevita(at)financialexecutives(dot)org