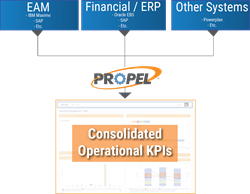 Expanding connectivity to include Oracle EBS enables organizations using EBS to leverage the power of Propel and move beyond EAM to support and manage their continuous improvement programs to achieve operational excellence.
KENNESAW, Ga. (PRWEB) April 11, 2018
Propel, a Performance Management solution, now offers innovative solutions for measuring operational performance leveraging Oracle E-Business Suite (EBS). In conjunction with IBM Maximo or any other Enterprise Asset Management system, Propel now broadens the ecosystem of key business processes under measurement for organizations seeking to continuously improve their operations. Propel offers an out of the box data model that supports an organization's key business processes: Asset and Reliability Management, Maintenance, Materials, Supply Chain, HR, and Environment, Health and Safety (EHS). It also provides the ability for the client to enhance these and expand to additional key business processes.
Using Propel, organizations can ensure that operational processes maintain alignment with their underlying business objectives. Propel federates data from multiple sources, such as Oracle EBS or any business system, providing centralized aligned Key Performance Indicators (KPIs). Individuals and teams responsible for performance can define and manage continuous improvement initiatives while Propel's automation capabilities monitor business conditions in the background. It is the seamless solution for those pursuing various management strategies, such as Lean Six Sigma, to improve their business.
About Cohesive Solutions, Inc.
Cohesive Solutions, Inc., is a leading enterprise asset management consultant, certified Premier IBM Business Partner and systems integrator. Cohesive Solutions provides business transformation and consulting services that enable organizations to achieve higher asset ROI. Cohesive Solutions also delivers a unique EPM solution, Propel, that unlocks hidden potential while aligning business performance goals. Since 1998 Cohesive Solutions has provided world class services to North American organizations.