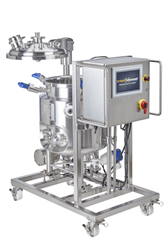 Leading stainless fabrication and pressure vessel equipment provider HOLLOWAY AMERICA will showcase its innovative new tank, the intelliVessel, at the 2018 INTERPHEX exhibition in New York.
Springfield, Mo. (PRWEB) April 10, 2018
HOLLOWAY AMERICA, a leading custom manufacturer of stainless tanks, pressure vessels, and equipment for industries ranging from food and beverage to pharma and chemical, recently announced it plans to attend INTERPHEX 2018 at the Javits Center in New York City from April 17 to 19. HOLLOWAY, an INTERPHEX exhibitor for the past several years, will showcase and demo its innovative smart tank technology—including one called the intelliVessel™—in addition to its customary product lines.
About The intelliVessel
Released in 2017, the intelliVessel is one of HOLLOWAY's latest smart tank technology innovations, though the company regularly crafts vessels and components that are on the forefront of industry trends. The intelliVessel's screen, which spans 13", is accessible from mobile devices and allows engineers to remotely navigate the control panel. In addition to containing e-versions of spare parts lists, manuals, and drawings, the panel allows workers to start and stop production or open and close the vessel's manway with just a few clicks. The intelliVessel also features full emergency stop functionality, at-a-glance statuses for vessel fullness, weight and process completion, and intricate control of meticulous recipe mixtures.
"The intelliVessel is a huge leap forward when it comes to changing industry standards to reflect the way we live our lives now, which is through technology," said HOLLOWAY's Director of Marketing, Randy Colwell, when the intelliVessel made its 2017 debut. He continued, "Not only does the intelliVessel simplify processes through automation that engineers can initiate with the press of a button, but it reduces human error. It also improves safety and ultimately modernizes the functionality of pressure vessels for better performance across the board."
At booth 3510, HOLLOWAY representatives plan to demo the intelliVessel for attendees and have informal discussions with them about the company's existing line of hand-crafted stainless tanks and vessels, which range from bioreactors to fermentation vessels. "We're excited to showcase our smart tank technology at INTERPHEX and are looking forward to sharing information about our ability to custom build any type of pressure vessel to unique specifications," said Colwell.
About INTERPHEX 2018
INTERPHEX is the premier exhibition for stainless fabrication manufacturing companies with expertise in the pharmaceutical and biotechnology industries. The expo will run from April 17 through 19 at the Javits Center, which is located at 655 W 34th St. in New York City. The Javits Center has reserved more than 300,000 square feet of event space to accommodate INTERPHEX 2018's slated attractions, which include pioneering product launches like HOLLOWAY's, as well as a keynote presentation series and roundtable discussions. Aside from American companies like HOLLOWAY, industry experts and suppliers from countries around the world will attend INTERPHEX 2018 to share their own insights and technologies.
For details about custom-engineered stainless tanks and vessels or for more information about the intelliVessel, contact Randy Colwell at 417.863.0077 or email info(at)hollowayamerica(dot)com. For information about INTERPHEX 2018, visit interphex(dot)com.