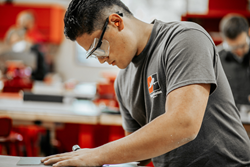 CLEARWATER, Fla. (PRWEB) April 10, 2018
National Aviation Academy's Charles E. Taylor Scholarship, named for the first aviation mechanic, has been established to recognize and encourage students who wish to pursue careers in aviation maintenance, as well as promote the future of aviation and, more specifically, highly-trained airframe and powerplant (A&P) mechanics. The scholarship is intended to nurture young talent and invest in the success of local, public high school students. Seniors who attend a public high school in Pinellas, Pasco, Hillsborough, Hernando and Manatee County may apply. Up to fifteen $1,000 scholarships will be awarded to be used towards tuition at National Aviation Academy (NAA).
Students from the local area will have the opportunity to receive a $1,000 scholarship to be applied directly to tuition at NAA, the ability to harness hands-on talent by beginning training as an A&P mechanic and access to high-earning, rewarding careers in the global aviation industry, and beyond, upon graduation. A&P certifications are federally-issued and never expire. For students who are seeking in-demand skills and career longevity, these certificates offer a point of entry and certify maintenance technicians for life.
To qualify, an individual must be a current high school senior, must graduate from a Pinellas, Pasco, Hillsborough, Hernando or Manatee County high school in the year that the application is submitted, have an overall 2.5 grade point average (GPA) and complete the application by the deadline, May 4, 2018 at 11:59 PM.
For more information about how to apply, as well as terms and conditions, visit naa.edu/scholarship