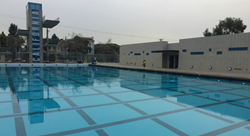 Don't miss this opportunity to work with the top players and coaches in the country.
SAN RAFAEL, Calif. (PRWEB) April 10, 2018
The focus of the Cal men's and women's water polo summer camps 2018 program will be in-water instruction on the game fundamentals. Coach Everist states, "Fundamental passing, shooting, team and individual defense along with tactical discipline and individual aspects of the game will be discussed. Don't miss this opportunity to work with the top players and coaches in the country."
Cal water polo summer camps in the bay area will take place May 19-20 & June 15-17 for girls ages 13-18 and June 18-21 for boys ages 11-18. Campers will train each day at UC Berkeley's Legends Aquatics Center, one of the newest and finest outdoor facilities in the United States. The main entrance to Legends Aquatic Center is on Bancroft Ave, one block down from Spieker Pool and RSF. Parking is available in the RSF Garage located on Bancroft or metered street parking.
"The Cal Water Polo Camp and Clinics will cover all facets of the game and progress from core fundamentals to advanced techniques over the two days," says Coach Simmons. "Similar to a collegiate-level practice, the clinic will also include dryland strength and conditioning, video review and discussions on goal setting and nutrition."
There is no deadline to register and flexible payment plans are available. Team discounts are available at all locations.
Coaches, Parents, and Campers interested in the 2018 Cal Water Polo Camps can visit http://www.ussportscamps.com/waterpolo or call 1-800-645-3226.
About US Sports Camps
US Sports Camps (USSC), headquartered in San Rafael, California, is America's largest sports camp network and the licensed operator of Nike Sports Camps. The company has offered summer camps since 1975 with the same mission that defines it today: to shape a lifelong enjoyment of athletics through high quality sports education and skill enhancement.