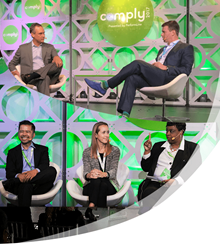 "COMPLY continues to be the preeminent event for regulators, compliance and marketing professionals and innovators to network and discuss today's pressing compliance issues. The caliber of speakers and brands at COMPLY2018 is a testament to its importance in the compliance space."
NEW YORK (PRWEB) April 10, 2018
PerformLine, the leading RegTech company that delivers automated compliance solutions and producers of COMPLY2018, today announced leaders from some of the world's most recognized brands in banking, Fintech and compliance are joining the COMPLY2018 speaker lineup. Industry figures from Nasdaq, TD Ameritrade, Mastercard, Bank of America Merrill Lynch, Marcus: By Goldman Sachs, Financial Technology Partners, OnDeck, LendingTree, IBM Watson Financial Services, Onfido, American Express, and the Federal Trade Commission (FTC) are just a few of the names that will headline the event, now in its 4th year.
Taking place May 16-17 in New York City, COMPLY2018 includes a full agenda of tactical presentations, luminary chats, keynote speakers and networking events spanning across two days. Since launching in 2015, COMPLY has brought together leading regulators, compliance professionals, regulatory technology (RegTech) innovators, marketing executives, advertising lawyers, consultants and investors from across the globe to discuss the complex regulatory environment and share actionable intelligence for mitigating risk, maintaining brand safety and implementing marketing regulations for any company. The conference also features a rooftop networking party on the famous Tribeca Rooftop overlooking the Manhattan skyline with live music, drinks and food that match the spectacular views.
"Regulatory changes and brand safety issues are creating disruptions in every facet of every industry. With this volatile environment it's a critical time for leaders to come together to focus on compliance and technologies to help enterprises adapt quickly," said Alex Baydin, CEO of PerformLine. "COMPLY continues to be the preeminent venue for regulators, compliance and marketing professionals and innovators to network and discuss today's pressing compliance issues. The caliber of speakers and brands at COMPLY2018 is a testament to its importance in the compliance space."
Featured Speakers and Sessions Include:
The Chief Compliance Officer Perspective session features a discussion by CMOs Brian Woldow from Bank of America Merrill Lynch, Mitch Hochberg from Marcus: By Goldman Sachs, and Paula Tuffin from Better Mortgage, led by Alexandra Megaris of Venable LLP.
Miles Reidy, partner at QED Investors, will lead the session on Lending, Alt-Lending and Credit Cards with panelists Marla Blow, CEO of FS Card, Noah Breslow, CEO of OnDeck, and Robert Marx, VP of Compliance at WebBank.
Alistair Rennie, GM Solutions, IBM Watson Financial Services, will take a seat alongside Dick Berner, Executive-in-Residence at the Center for Global Economy, NYU Stern School of Business for an Innovation Fireside Chat.
Marketing Mavens will feature the all-stars who are leading the marketing efforts at some of the fastest growing companies today including moderator David Jakubowski from Facebook, Brad Wilson, CMO of LendingTree and Denise Karkos, CMO of TD Ameritrade.
Registration for COMPLY2018 is open online until May 15. The standard rate of $1,495 per person, and groups discounts for 3+ registrants at $1,046 per person, are available until May 1, 2018. Last minute rate of $1,795 per person until May 15, 2018 and on-site pricing of $1,995. To register or learn more about the conference, please visit https://comply2018.com/. Press requesting to attend should contact marketing(at)performline(dot)com for more information.
ABOUT COMPLY2018
COMPLY2018 is the largest RegTech and Compliance event — bringing together the most comprehensive gathering of innovators, investors, legal and compliance professionals and regulators from across the globe. COMPLY is focused on actionable take-aways for mitigating risk, maintaining brand safety and implementing marketing regulations for any company. COMPLY2018 was named a "Top RegTech Conferences for 2018." COMPLY2018,takes place on May 16 & 17, 2018 at Tribeca360 in NYC. Register at https://comply2018.com.
ABOUT PERFORMLINE
PerformLine is the leading RegTech company delivering automated compliance solutions for enterprises looking to mitigate regulatory risk and ensure brand safety. Its cloud-based platform empowers compliance functions with the intelligence, insights and tools needed to mitigate risk across consumer interactions channels including web, voice, and chat. PerformLine provides its clients with significant time and cost savings by automating compliance activities across channels and departments.