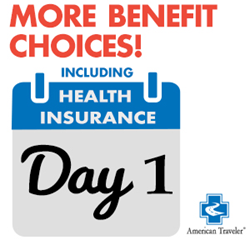 Our new range of benefit plans allows each client to select the one that is right for them.
BOCA RATON, Fla. (PRWEB) April 11, 2018
In response to the needs of contingent healthcare professionals, American Traveler is now offering an expanded menu of healthcare coverage choices to its working travelers through Cigna Insurance.
Says Mary Kay Hull, the agency's Vice President of Recruitment, "Our goal has always been to offer comprehensive benefits to our traveling healthcare professionals, which includes making sure their own health is protected. We now offer a choice of health insurance plans for travelers, including options that offer a Day 1 effective date, which means no waiting 30 days or more until insurance coverage begins."
Travelers can select from medical / RX plans with varying structures, effective dates and contribution rates. Also available are plans with a Health Savings Account, which allows members to set aside money on a pre-tax basis to pay for qualified medical expenses.
American Traveler also offers Dental and Vision coverage plans that are effective on Day One. These plans are available independent of medical coverage election. As always, travelers may arrange for their own healthcare coverage.
Every travel nurse has a unique personal situation and lifestyle, so having a variety of benefit plans to choose from allows each individual to select the one that is right for them.
American Traveler encourages all working travelers -- and all prospective travelers -- to contact one of our expert recruiters to find out how these newly expanded benefits can better their lives and their careers.
About American Traveler
American Traveler Staffing Professionals is a healthcare staffing agency and workforce management solutions company. The agency staffs nursing and allied health professionals at more than 4,500 hospitals nationwide and over 80% of largest hospital systems in the United States. The company has continuously demonstrated the quality of its healthcare staffing services by earning the Joint Commission's prestigious Gold Seal of Approval since 2005.