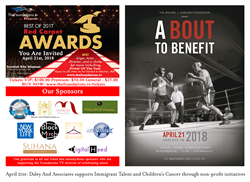 "Diversity & Inclusion is embedded in everything we do. It ties to retention and recruitment as well as meeting client expectations and a brand's social purpose. Cultural inclusion in the workplace is a high priority for agencies and clients,"
BOSTON (PRWEB) April 10, 2018
Daley And Associates has embraced diversity as more than just a race inclusion. Diversity is about lifestyle that includes all aspects that make employees and customers unique. It is about opening up the creative process and encouraging free exchange of ideas. One way Daley And Associates supported this concept recently is through a platinum sponsorship to The Foundations TV Red Carpet Awards Event to be held on April 21, 2018. This Award Ceremony recognizes exclusive immigrant talent in the area.
"Diversity & Inclusion is embedded in everything we do. It ties to retention and recruitment, as well as meeting client expectations and a brand's social purpose. Cultural inclusion in the workplace is a high priority for agencies and clients," said Mike Daley, President and CEO of Daley And Associates. "With our clients, we are noticing an increasing focus on diversity, equality and inclusion — bringing these concepts to life in corporate cultures, embedding them in work and embodying them in responses to challenging, fast-moving events. A company's approach to inclusion can now impact corporate reputation, brand image, employee engagement, stakeholder trust and marketing outcomes. We have a wide candidate database that already includes a diverse pool. Our support with this event is our way of communicating to our candidate pool and to our clients that we not only understand the current landscape, but we also support an inclusive lifestyle," added Daley.
In another instance, Daley And Associates is supporting The Michael J. Dunleavy Foundation's event A BOUT TO BENEFIT. This is a boxing event that raises funds to fight pediatric cancer.
"A lot of our employees are athletes. They have the drive to practice a task rigorously, relentlessly, and even in the midst of failure until they succeed. They achieve their goals. They develop new skills and strive for balance. DAA athletes work well with partners and in teams. When one of our employees, Manuel Suarez, mentioned he will be boxing for the first time, and that too for a noble cause, we saw this as an opportunity to support him and the cause," said Shawn Flaherty, a Partner at Daley And Associates. "We wish Manuel and all other participants the best of luck for the event to be held on April 21st."
About Daley And Associates, LLC:
Daley and Associates (DAA) is a boutique executive search and contract staffing firm that is specializing in placing Accounting, Finance, Administration, Information Technology, Legal and Life Sciences professionals into outstanding opportunities at all levels. The DAA team is comprised of executives, senior management, and expert team of recruiting professionals. They take pride in excellent client relationships, superior industry knowledge, and personable approach ensuring a great fit between the goals and needs of each client and candidate. DAA matches exceptional talent with employers to produce exceptional results.
About The Foundations TV:
Five years ago Foundations TV started with the idea of Spreading Inspiration Through Awareness of the positive work that is being done within the South Asian Community of New England and beyond. Within this period, they have grown and evolved in multiple directions, now consistently delivering good content to viewers through various channels including social media, video magazine, youtube and of course a website. FTV specializes in providing socially, culturally, religiously, academically, and intellectually enriched as well as visually appealing materials through webisodes. FTV COMMUNITY NEWS promotes various community events, and STUDIO INTERVIEWS are engaging and meaningful conversations with celebrities and interesting personalities. In 2017 FTV ventured into the space of SIGNATURE EVENTS with the first ever RED Carpet Awards. The Foundations TV, under the guidance of its advisors, recognized individuals and organizations under three major categories: Talent, Technical Skill and Community Work. In 2018, it continues this effort with a stride to grow bigger and better each year. This year the Awards are themed INCLUSION and DIVERSITY through talent celebration. A grand VIP reception and electrifying stage performances are expected to please an audience of about 400. 26 Awards are being given.
About Michael J Dunleavy Foundation:
The Michael J. Dunleavy Foundation was incorporated in the fall of 2002 following the passing of its namesake Michael James Dunleavy, age 8, who succumbed to an inoperable brain tumor which was first diagnosed in the late spring of that year. The Foundation was born out of Michael's own desire to help other children who had cancerous brain tumors or other illnesses and their families. Its primary donations are to the MHG Children's hospital and Camp Sunshine, Maine who care for the needs of pediatric cancer patients. The A BOUT TO BENEFIT event sees twenty four volunteers, who have never boxed before, step into the ring after twelve weeks of professional training. The event has been a huge success for the past four years, selling out to an audience of over seven hundred people from Boston, Cambridge, Somerville, Winchester and the greater Boston area. A sell out event is expected again this year for an evening of music and entertainment to accompany the boxing, with all proceeds going directly to the foundation.