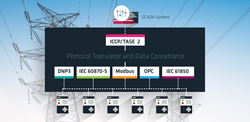 Our goal is to provide a cost effective solution for integrating with SCADA systems that use IEC 60870-6 (TASE.2/ICCP) and other standard communication protocols.
RALEIGH, N.C. (PRWEB) April 10, 2018
Triangle MicroWorks, Inc. extends an open invitation to download and evaluate the company's SCADA Data Gateway to translate between multiple standard SCADA protocols including IEC 60870-6 (TASE.2/ICCP), IEC 61850, IEC 60870-5, DNP3, and Modbus as well as OPC. The Gateway performs the work of an OPC server, protocol translator, and data concentrator. For all of the SCADA Data Gateway capabilities visit their website, and connect with them on Facebook, Twitter, and Linkedin where they share valuable content. There is an active conversation and information stream at #TriangleMicroWorks as well.
SCADA Data Gateway supports the following:

Up to 30,000 points
Up to 250 connections
Software solution for deployment on any Windows PC or VM
Direct mapping from TASE.2/ICCP to other standard protocols or SQL databases
DNP3, IEC 61850, GOOSE, IEC 60870-5, TASE.2/ICCP, Modbus, ODBC, and OPC
Built-in protocol analyzer, equation editor, and sequence of events log
IEC 62351 security including TLS
About Triangle MicroWorks, Inc.:
For over two decades, Triangle MicroWorks has been one of the world's leading providers of software solutions for standards-based communication protocols. Now serving hundreds of clients around the world, Triangle MicroWorks focuses on understanding the needs of each while building strong, lasting relationships.