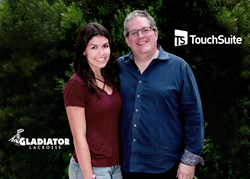 Entrepreneurs and small business owners of all ages will learn how to maximize the likelihood of success by learning about the experiences and principles that have guided the Zietz family.
BOCA RATON, Fla. (PRWEB) April 12, 2018
TouchSuite owner and CEO, Sam Zietz teams up with his daughter, founder and owner of Gladiator Lacrosse, Rachel Zietz for Small Business Week. The father daughter duo will speak on the challenges and principles of running a small business at any age. The special presentation is part of the Boca Raton Public Library's series of events during National Small Business Week (SBW).
National Small Business Week is an annual event that focuses on small business owners, small business advocates and entrepreneurs across the country. This year, SBW will take place from April 29 – May 5. The Boca Raton Public Library will be hosting multiple events throughout the week and will close out the series with Sam and Rachel's presentation. The presentation will be held Saturday, May 5th from 2:00 – 3:30 pm at the Downtown Boca Raton Library branch.
About Sam Zietz: is the founder and CEO of the award winning financial technology company TouchSuite. Sam has been recognized as EY Entrepreneur of the Year and one of South Florida Business Journal's Top 100 Power Leaders. Sam has 20 years of experience leading and coaching successful entrepreneurs.
About Rachel Zietz: is the 17 year old founder and CEO of Gladiator Lacrosse, LLC. A student at Boca Raton's Pine Crest School and a member of Boca's Young Entrepreneur's Academy, Rachel built a $1 million company by the age of 15 and was featured on ABC's "Shark Tank."
About TouchSuite: Headquartered in Boca Raton Florida, TouchSuite is a leading financial technology company that delivers business solutions for small to mid-sized companies across different industries. Offerings include point-of-sale systems, payment processing services, SEO solutions, working capital and marketing services. TouchSuite positions itself as the entrepreneur's partner, delivering solutions that help business owners thrive within the community.
About Gladiator Lacrosse: Gladiator Lacrosse, founded in 2013, established by then-13-year-old entrepreneur and lacrosse player Rachel Zietz, is currently one of the leading manufacturers of professional grade lacrosse equipment. Recognized by Florida's Governor Rick Scott in his 2016 State of the State address and by Time Magazine as one of the 30 most influential teens of 2016, Gladiator Lacrosse and its founder have been featured in many publications including: The New York Times, South Florida Business Journal, Entrepreneur Magazine, Fortune Magazine, and Inc.com. Gladiator Lacrosse was also the first lacrosse company to appear on ABC's hit television show, Shark Tank.