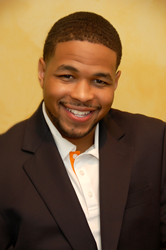 HENDERSON, Tennessee (PRWEB) April 09, 2018
Inquoris "Inky" Johnson, former University of Tennessee football player and motivational speaker, will headline Freed-Hardeman University's Sports Advisory Council Benefit Dinner Thursday, April 19. FHU's Sports Advisory Council will host the dinner and speech to raise funds for the university's intercollegiate athletic programs.
Patron tickets, available for $50 each, include general seating for the dinner and program. Sponsorships and tables, which include premium seating and photo passes, are also available. General Admission tickets for the program only are also available and cost $15 for adults and $10 for students.
Johnson, a player for the University of Tennessee football program from 2005-2006, suffered an injury on September 9, 2006, that changed his life forever. A routine tackle turned into a life-threatening injury, which resulted in a paralyzed right arm, daily pain, and constant physical challenges.
As a result of the injury, Johnson's dream of playing professional sports was shattered. One would think that the injury would have destroyed his motivation and crushed his spirit. However, those who know Inky Johnson, see a man that looks in the face of defeat and says "Am I really failing or is God prevailing?" Attendees of the event will be inspired by Johnson's relentless determination, which he loves to impart to others through his dramatic story.
Johnson completed his Master's degree from the University of Tennessee and devotes much of his time to mentoring athletes and underprivileged youth. He and his wife Allison reside in Atlanta, Ga. and have two children, Jada and Inky, Jr.
The event begins with a silent auction at 5:30 p.m. with dinner following at 6 p.m. Johnson's keynote speech begins at 7 p.m. followed by a photo reception at 8:15 p.m.
Those interested in purchasing sponsorships or tickets for the event can call the FHU Athletic Department at 731-989-6900 or 731-989-6901.