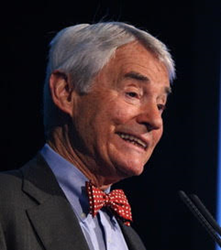 "Having been in this industry for sometime, seldom do you see something as innovative as Neuhope's care management solutions."...Dr. Ron Pion
LOS ALTOS, Calif. (PRWEB) April 12, 2018
Neuhope, a leading provider of care management solutions, is pleased to announce the appointment of Dr. Pion to the company's Board of Advisors. Dr. Pion is a physician, visionary, and highly successful business professional. For decades, his combination of a practitioner's perspective and corporate experience has provided guidance and wisdom to innovative companies. He draws upon significant experience in leadership roles in both public and private healthcare companies.
Dr. Pion has been involved in the development and production of television and radio as well as other interactive programming for healthcare professionals and patients for over 40 years. As a gifted teacher, he's been dedicated to facilitating learning on the part of patients and their families. Following a successful career in academic medicine, serving on the faculties of the University of Washington and the University of Hawaii, Dr. Pion returned to Los Angeles in 1979 to pursue healthcare telecommunications on a full-time basis.
He previously served as the medical correspondent for KNBC's Alive & Well, co-developed and hosted the nationally syndicated daily television series "Group One Medical" and hosted "Milestones in Medicine" a regular Sunday night feature of Lifetime Medical Television during the 1991 and 1992 seasons.
Dr. Pion is the founder of the Hospital Satellite Network (HSN). HSN developed the first ever cost-efficient medical video teleconferencing platform and the nation's first daily satellite-delivered television programming for health professionals and patients. He was also recently named to the inaugural list of 50+ Innovation Leaders by the AARP for his creative solutions for those 50 and older.
Dr. Pion served on the board of directors of the American Academy of Home Care Physicians and the Abbey HealthCare Group. He co-authored a book about the business of caring for patients at home published by McGraw-Hill in 1999. He is also a clinical professor at the UCLA School of Medicine, and a Fellow of the American College of Obstetricians and Gynecologists
As part of the Neuhope team, Dr. Pion is eager to share his insight, expertise, and counsel. "I've always been full of curiosity and have sought to change the way we see problems. Wondering what new idea or invention in medicine and technology will be created that change the standards of care and improve pa-tient outcomes. Having been in this industry for sometime, seldom do you see something as innovative as Neuhope's care management solutions."
Tom Laffey, CEO and Co-founder Neuhope, commented, "We are grateful for the addition of Dr. Pion to our Board of Advisors. I believe his broad experience, as a physician, teacher, visionary and entrepreneur will be of great benefit to the company. We look forward to working alongside Dr. Pion to incorporate his unique perspective and innovative ideas into our solutions."
About Neuhope, Inc.
(http://neuhope.com)
Neuhope improves outcomes and quality of life for patients and their family experiencing cancer or any chronic disease. This is achieved through Neuhope's holistic care management solution—HOPE—that significantly increases the patient's compliance to their treatment regimen. HOPE's active management puts the power of care in the hands of patients and their care networks, by tracking and monitoring everything required to support a personalized care plan. HOPE delivers the right care information to the right people at the right time to ensure adherence.
The importance of patient compliance is highlighted in a recent report from the World Health Organization that states "more health benefits worldwide would result from improving adherence to existing treatments than from developing new medical treatments". With over 500,000 deaths per year worldwide and $300+ billion in additional healthcare costs being attributed to non-compliance, Neuhope delivers significant and immediate social and financial impact with its solution