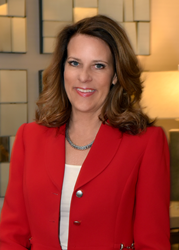 "I am incredibly honored to be recognized by Women In Trucking as the 2018 Distinguished Woman in Logistics Award recipient. I share this honor with the talented employees of GlobalTranz and am proud to represent the many accomplished and deserving women in the trucking and transportation industry."
PALM DESERT, Calif. (PRWEB) April 10, 2018
Women In Trucking Association (WIT) today announced Renee Krug, chief financial officer of GlobalTranz, as the winner of the fourth annual 2018 Women In Trucking Association's Distinguished Woman in Logistics Award (DWLA).
The announcement was made during the Transportation Intermediaries Association (TIA) 2018 "Capital Ideas" Conference and Exhibition in Palm Desert, Calif. Krug was chosen among three finalists for the award. The other finalists include Kendra Phillips, group director of SE Operations for Ryder System, Inc. and Betty Weiland, senior editorial manager of the Transportation Publishing Department, J. J. Keller & Associates, Inc.
With over 15 years of executive leadership experience and more than seven years of logistics industry experience, Krug joined GlobalTranz four years ago and helped grow the organization from $400 million to $1 billion in annual revenue during that time. Today, GlobalTranz is the ninth-largest privately-held company in Arizona. This exponential growth has created jobs and opportunities in the logistics industry nationwide.
"I am incredibly honored to be recognized by Women In Trucking as the 2018 Distinguished Woman in Logistics Award recipient," said Krug. "I share this honor with the talented employees of GlobalTranz and am proud to represent the many accomplished and deserving women in the trucking and transportation industry."
Krug was instrumental in creating CORE, GlobalTranz's corporate responsibility program that implements initiatives to serve the needs of the Phoenix community, ensure company-wide social responsibility and lessen the organization's carbon footprint on the environment. She is also involved with numerous charity and nonprofit organizations in her community, such as Feed My Starving Children, National Charity League, The Jared Box Project, Susan G. Komen Race for the Cure, and the Back to School Drive.
"Each year the judging for the Distinguished Women in Logistics gets harder and harder, and this year is no exception," said Ellen Voie, president and CEO of WIT. "Renee Krug is not only a leader and a woman who has succeeded in the area of logistics, she has made a difference in her community, and that's even more impressive with her demanding career at GlobalTranz."
The DWLA was established to promote the achievements of women employed in the North American transportation industry. It highlights the vital roles of women in the dynamic and influential field of commercial transportation and logistics. Truckstop.com and TIA have partnered with WIT by supporting this award that honors women in the field of logistics.
"We sincerely appreciate how Women In Trucking continues to inspire women in all areas of transportation to create and advance success," Truckstop.com Chief Relationship Officer Brent Hutto said. "All of the partners at Truckstop.com are pleased to continue to be a part of this recognition of excellence and stay dedicated to supporting the efforts of Women In Trucking to encourage the promotion of women in the trucking and transportation industry."
Members of the judging panel were: Laurie Denham, vice president of education, TIA; Brent Hutto, chief relationship officer, Truckstop.com; Ellen Voie, president and CEO, WIT; and Dr. Stephanie S. Ivey, director of Intermodal Freight Transportation Institute, Southeast Transportation Workforce Center, and associate professor, department of civil engineering at the University of Memphis.
###
About Women In Trucking
The Women In Trucking Association, Inc. is a nonprofit association established to encourage the employment of women in the trucking industry, promote their accomplishments and minimize obstacles faced by women working in the trucking industry. Membership is not limited to women, as 17 percent of its members are men who support the mission. Women In Trucking is supported by its members and the generosity of Gold Level Partners: Arrow Truck Sales, Bendix Commercial Vehicle Systems, Daimler Trucks North America, BMO Transportation Finance, Expediter Services, Great Dane, J.B. Hunt Transport, and Walmart. Follow WIT on Twitter, Facebook, or LinkedIn. For more information, visit http://www.womenintrucking.org or call 888-464-9482.
About Truckstop.com
Truckstop.com is the world's most trusted web-based load board and freight marketplace for drivers to find loads, brokers to increase capacity, and shippers to manage freight. With Truckstop.com's online load board, brokers can post loads, carriers can search for available loads in real-time, and shippers can match their freight with the right person. For over 20 years, Truckstop.com has helped carriers, brokers, and shippers successfully run their businesses and find a better way to move freight.
About Transportation Intermediaries Association (TIA)
The Transportation Intermediaries Association (TIA) is the professional organization of the $185.7 billion third-party logistics industry. TIA is the only organization exclusively representing transportation intermediaries of all disciplines, doing business in domestic and international commerce. TIA is the voice of the 3PL industry to shippers, carriers, government officials and international organizations. TIA is the United States member of the International Federation of Freight Forwarder Associations, FIATA.