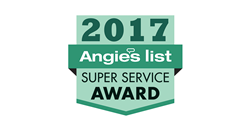 CHARLOTTE, NC (PRWEB) April 11, 2018
Universal Windows Direct of Charlotte was proudly recognized for the 2017 Angie's List Super Service Award. The exterior remodeling company provides top-notch customer service to Charlotte homeowners. By providing exceptional exterior remodeling products at incredible pricing, homeowners trust the quality and value of our renowned replacement windows and more.
The Angie's List Super Service Award is a notable customer-service award for any exterior remodeling company. It demonstrates top-performers in the industry for customer service with stellar online ratings, specifically on the Angie's List platform. Universal Windows Direct achieved this award by striving to improve the lives of homeowners through products that enhance comfort levels of the home. Our no-pressure sales approach and customer-centric core values build confidence with homeowners throughout Charlotte.
This award is based on several ratings and qualifications. Angie's List updates its company ratings daily that range from A to F. The home improvement companies that are eligible for the Super Service Award must meet strict eligibility guides to be considered. The guidelines include straight A-ratings for overall grade, recent grade, and period grade. The performance ratings from this award period cover from November 1, 2016 to October 31, 2017. Recipients of this award must also be in good standing with Angie's List, pass a background check, and submit a current trade license attestation.
Angie's List is a leading online review website for home improvement companies and more. There are over 10 million reviews and 700 categories on Angie's List, with only the top customer service-oriented companies making the cut for the award. This award is notable for giving customers yet another boost in confidence for choosing Universal Windows Direct of Charlotte, and the company is honored to be a recipient for 2017.
About Universal Windows Direct:
Universal Windows Direct is an exterior remodeling company located in Charlotte, North Carolina. It was founded by Mike Strmac and William Barr in 2002 in Cleveland, Ohio, and ultimately branched out into a national company with a location in Charlotte. It's proud to service North Carolina homeowners with top-quality replacement windows, entry doors, vinyl siding, and more.