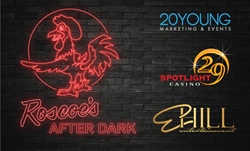 Coming off of our 40 year anniversary in business, we are excited to be exploring experiential branding and partnerships such as Roscoe's After-Dark at Coachella Festival says team Roscoe's.
COACHELLA VALLEY, Calif. (PRWEB) April 10, 2018
Iconic Los Angeles based restaurant Roscoe's House of Chicken N' Waffles is headed to Coachella for the first time ever. The Roscoe's After Dark Pop- Up restaurant will be taking place at Spotlight 29 Casino, one of the most popular casinos in Coachella Valley. Produced by Los Angeles based marketing and event experts, 20Young, this event is sure to be a festival favorite.
"20Young is extremely excited to be a part of this incredible movement alongside Roscoe's and the Spotlight 29 Casino. This event pays homage to the tremendous influence Roscoe's brand has had on Californian food, music, and more importantly culture. It is with great pride that this event will be the first of many amazing events we expect to take place at the Spotlight 29 Casino in the coming years," says Leigh Walker, Founder of 20Young Marketing & Events Group.
The restaurant opens to the public at 8 pm each night and closes at 4 am. The VIP exclusive event starts at 11 pm both nights and goes until 4 am. The VIP experience is an invite-only event serving specialty brunch style cocktails, a Roscoe's Coachella custom menu, and Coachella survival kits provided by Curls ( https://www.curls.biz/ ), while festival-goers listen to sounds by DJ Snoopadelic/Snoop Dogg (headlining Friday) and DJ Esco (headlining Saturday). Roscoe's Chicken N' Waffles will be showcasing the BeyHive inspired "Beygan" menu option for non-meat eaters as well as unveiling their Roscoe's Coachella special. "The Twenty-Nine Palms Band of Mission Indians is excited to host the first Roscoe's After Dark Coachella restaurant pop-up at our Spotlight 29 Casino and Coachella Crossroads. We are thrilled to partner with such an iconic brand. This event has huge growth potential and we're excited for what is to come," says Darrell Mike, Chairman of Spotlight 29 Casino.
With a partnership with Merry Jane Media and Uber Eats, festival goers will be able to order these options through the app with delivery! In addition to the outdoor event space, the Casino is introducing Village 29 http://www.village29.com where pop-up lodging will be provided for festival goers. The space will include modern, sleek pop-up crash pads, RV rentals, safari glamping tents, and lounge pads for a Festival style staycation! The Roscoe's brand is perfect for Festivals, seeing as they're both the perfect blend of pop-culture, celebrity sitings, and great food.
About 20Young Marketing + Events
20Young is the marketing solution for brands to connect with their customers through experiential events with the creation of relatable content, expressive media, interactive technology and sourcing new and exciting vendors to create unique event experiences that will leave lasting impressions.
About Spotlight 29 Casino
Spotlight 29 Casino is located in Coachella Valley, featuring 1,600 of the hottest and most popular slots, world-class table games, delicious dining options and a 2,200-seat Spotlight Showroom. Spotlight 29 Casino is owned and operated by the Twenty-Nine Palms Band of Mission Indians, a federally-recognized tribe with reservations in Coachella and 29 Palms, California. Its entrepreneurial ventures include Tortoise Rock Casino, Village 29 RV Campground and its newest venture, Coachella Crossroads, an outdoor event, and recreation venue. Spotlight 29 Casino is only minutes from Palm Springs, located just off of Interstate 10 at Dillon Road. For more information, go to http://www.Spotlight29.com or call 760-775-5566. Follow Spotlight 29 Casino on Facebook, Twitter, and Instagram #Spotlight29Casino.
About Roscoe's House of Chicken N' Waffles
Roscoe's House of Chicken N' Waffles, helmed by The Los Angeles Times as a Culinary Institution, the iconic food chain has been internationally recognized and is beloved by the likes of many in TV, film, sports, politics, and music. Celebrating over 40 years of influence on American Cuisine, the restaurant's crafty menu selection has a sizeable
impact globally. Roscoe's cross-cultural authenticity continue's to make it a top choice when it comes to chicken and waffles. The Roscoe's brand is the perfect blend of pop-culture, celebrity sitings, great food regardless of the time of day and remains one of the worlds top soul food restaurant chains.
For more information about Roscoe's After Dark please visit http://www.RoscoesAfterDark.com.
For talent, sponsorship, press and media inquiries, please contact erica(at)ehillentertainment.