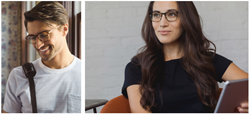 NEW YORK (PRWEB) April 11, 2018
Felix Gray, a modern designer of eyewear engineered for happier eyes by filtering blue light and eliminating glare, is today introducing its new prescription lens collection. The Rx collection is a first-of-its-kind, combining high-specification, blue light filtering lenses with fashion-forward frames, and was designed in response to customer demand. Contrary to the standard, Felix Gray embeds the blue light filter within the lens rather than using a simple coating or yellow tint, ensuring the perfect balance between a clear and effective lens.
Felix Gray has quickly generated a reputation of offering timeless classic eyewear designs to complement personal style. Each model is crafted using Italian acetate and the new Rx collection comes in a variety of finishes and colors including Whiskey Tortoise, Artichoke, Sazerac and classic Black.
Americans continue to become "digitized" and consume content from their computers, smartphones, and televisions. As a consequence, The Vision Council has reported an increase in eye strain, dry eyes, headaches, blurred vision and neck and shoulder pain. Felix Gray creates a better experience and promotes improved wellness for anyone who spends time in front of a screen.
"We started Felix Gray as a solution for the all-too-many people that deal with symptoms associated with staring at a screen for long periods of time. Because it's our own lens, it was difficult to move into Rx right away," says David Roger co-founder & CEO. "But as we grew, more people wanted to wear our glasses as their everyday pair. It made sense to bring our lens technology to the Rx market, providing greater value to anyone who's in front of a screen, whether they wear glasses or not. Now, there's no reason for anyone to not own a pair. Felix Gray is the eyewear brand for today's age--which, let's face it--is spent mostly in front of a screen."
Felix Gray glasses ship straight to your doorstep, making them quickly attainable for all. Customers can choose from seven different designs depending on desired look and fit. The ordering process is as easy as possible. For Rx, simply provide a selfie and upload your prescription and Felix Gray will send you your glasses in no time!
The new Rx collection is available starting today for $145. The full line of designs can be browsed at http://www.shopfelixgray.com.
For more information about Felix Gray's latest prescription lenses, or to request a pair for review, contact Kirstin Hallett at kirstin(at)sourcecodecomms(dot)com.