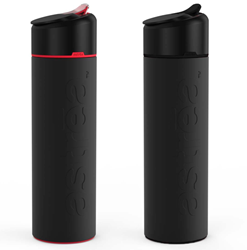 "The city of Flint was hit hard by the lead crisis and we wanted to make sure that a part of our campaign was giving back to families directly impacted."
SEATTLE (PRWEB) April 16, 2018
Clean water innovator HaloSource,Inc. ("HaloSource" or the "Company") launched an Indiegogo campaign on World Water Day, March 22, to crowdfund pre-orders of its new astrea™ bottle in the U.S., and we are pleased to announce that the campaign has achieved its $50,000 campaign goal. Pledging support to "Kick the Lead Out!" and reaching the $50,000 goal unlocked two special edition bottles that are now available. Additionally, HaloSource will donate $5 for every astrea™ bottle sold during the rest of the campaign to the Flint Child Health and Development Fund (the "Fund") of the Foundation for Flint. The Fund focuses on the long-term health and development needs of Flint children exposed to lead.
"We're very pleased with this initial response to our Indiegogo campaign. It's a validation that there is broad interest in a portable solution that can filter out lead and other heavy metals from drinking water," said James Thompson, CEO of HaloSource. "The city of Flint was hit hard by the lead crisis and we wanted to make sure that a part of our campaign was giving back to families directly impacted. While Flint was the 'big bang' that raised more awareness of the lead issue, communities across the U.S. are drinking water containing lead. Our hope is that moving forward, our astrea™ bottle will better protect families from lead exposure in their drinking water."
While other bottles claim to filter your water, astrea™ was specifically designed to filter out the most common water contaminants, including heavy metals, and all forms of lead. From testing to date, astrea™ expects to be the world's most effective daily-use filtering water bottle tested to remove lead and other heavy metals to the most rigorous National Sanitation Foundation standard – NSF 53 – and intends to empower consumers to filter the uncertainty out of their water.
It is not too late to own the new astrea™ bottle and help 'Kick the Lead Out" – pledge your support at https://igg.me/at/astrea now through May 5, 2018.
###
Enquiries:
HaloSource, Inc.
James Thompson, Chief Executive Officer (425) 419-2258
Craig Crowell, Chief Financial Officer (425) 419-2248
About HaloSource
HaloSource, Inc. innovates and integrates technologies to deliver clean drinking water solutions to partners with trusted brands around the world. The Company works with scientists and industry experts across the globe in search of new ways to improve drinking water quality and has been awarded more than 30 patents for its ground-breaking chemistries, which provide safe drinking water for millions of consumers globally. The Company's class-leading HaloPure® Drinking Water technology has the highest global certifications, including registration with the US EPA.
Founded in Seattle, Washington, HaloSource has grown to become an influential leader in drinking water purification. HaloSource is headquartered in the US with operations in China and India. Learn more about the Company's research and development and future novel technologies by visiting http://www.halosource.com and http://www.astreawater.com.
The HaloPure® and astrea™ brands are registered trademarks of HaloSource, Inc. All other trademarks, brand names or product names belong to their respective holders.
This document contains certain forward-looking statements relating to the Company. The Company considers any statements that are not historical facts as "forward-looking statements". They relate to events and trends that are subject to risk and uncertainty that may cause actual results and the financial performance of the Company to differ materially from those contained in any forward-looking statement. These statements are made by management in good faith based on information available to them and such statements should be treated with caution due to the inherent uncertainties, including both economic and business risk factors, underlying any such forward-looking information.