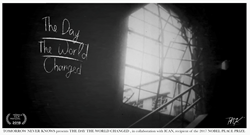 NEW YORK (PRWEB) April 10, 2018
Tomorrow Never Knows, in partnership with the 2017 recipient of the Nobel Peace Prize, International Campaign to Abolish Nuclear Weapons (ICAN), Nobel Media and the Saul Zaentz Innovation Fund in Film and Media Studies at Johns Hopkins University, has today announced the virtual reality experience, The Day the World Changed, will premiere in the Virtual Arcade that runs April 20-29, at the 2018 Tribeca Film Festival® presented by AT&T.
Co-created by award-winning filmmakers and virtual reality pioneers, Gabo Arora and Saschka Unseld, and produced by Jennifer Tiexiera, the social, interactive experience pairs ground-breaking technologies with rare survivor testimonies from Hiroshima to bring the terror of nuclear war to vivid life.
"Over the years, we have been desensitized to the consequences of nuclear war," said Arora. "We are living in a time when our Commander-in-Chief and leaders of other nations are openly calling for more nuclear weapons, taunting each other over their capabilities. Our intention with this work is to give voice to those victims of nuclear war asking the world to face this shared history and to recognize the true horror of these weapons."
Added Saschka Unseld, "We want this to be an unwavering, uncomfortable experience for people. We want to turn on its head our obsessions and fetishizing of nuclear superiority as a symbol of pride in one's country, but also to recognize the power of the virtual reality medium. By placing the general public inside the ruins of a tragic event like Hiroshima, we hope to activate a groundswell of support for the abolition of nuclear weapons, and to help ICAN generate momentum in their mission towards elimination."
The Day the World Changed began as a partnership with Nobel Media to showcase the work of the 2017 Nobel Peace Prize-winning organization ICAN, a campaign coalition that works to prohibit and eliminate nuclear weapons.
"We find ourselves at one of the most dangerous moments since the dawn of the Atomic Age. It's at moments like this that we must collectively look back and understand that nuclear weapons are quite simply indiscriminate weapons of mass murder," said ICAN executive director, Beatrice Fihn. "The Day the World Changed isn't just a story about the past, it is also about our future—it reminds us that these weapons are still here, threatening us, but we can do something about it."
With that goal in mind, the experience presents a powerful historical record reimagined through new technology via three interactive chapters.
The first explores what led the United States government to develop and drop the world's first atom bomb on Hiroshima, Japan on August 6, 1945, a catastrophic event that ultimately killed more than 90,000 people. The second chapter examines the aftermath of the bombing as users walk through the ruins of Hiroshima's only remaining building, and view authentic artifacts left over from that day.
The third chapter advances to the present day as viewers delve into the madness that ensued as the world raced to develop ever-more nuclear weapons.
The experience seeks to pay tribute to the victims of Hiroshima, while recognizing those currently affected by nuclear weapons testing in today's fraught geo-political climate, proving that change is possible with the right tools and information.
"The Saul Zaentz Innovation Fund prides itself on elevating and empowering voices that have been ignored, voices that aren't afraid to push the envelope and explore the complexities of what drives us as a society and as individual beings," said executive producer and director of the Saul Zaentz Innovation Fund in Film and Media Studies at Johns Hopkins University Annette Porter. "We are honored to support and participate in this monumental project."
Tomorrow Never Knows CEO and Executive Producer on the project, Nathan Brown, is quick to note the impact The Day the World Changed will have in bridging the gap between art, education and location-based distribution. "This project goes far beyond mere technology or storytelling," he says. "It is important experiences like this that have the potential to open up new markets and audiences to the power of immersive storytelling around the world."
The Day the World Changed was made in partnership with International Campaign to Abolish Nuclear Weapons (ICAN), Nobel Media, Sisu Films and Ntropic+Tactic and produced by Tomorrow Never Knows, Jennifer Tiexiera, Tom Lofthouse and Fifer Garbesi, and executive produced by Nathan Brown, Executive Director of ICAN and current Nobel Peace Prize Nobel Laureate, Beatrice Fihn, Mattias Fryenius, Karen Lorenzo, Annette Porter and features original sound design by AntFood.
Tomorrow Never Knows' inaugural feature, the critically-acclaimed ZIKR: A Sufi Revival, premiered at the 2018 Sundance Film Festival, and was later acquired by UK-based distribution company, Dogwoof, becoming the first ever VR documentary to be acquired at a major film festival.
For more information, please visit https://www.thedaytheworldchanged.world/.
Tomorrow Never Knows
Tomorrow Never Knows is a start-up XR research, content and technology studio founded by Nathan Brown, Tom Lofthouse, Saschka Unseld and Gabo Arora. The founders are pioneers in the creative, technology and media industries, telling important stories that push the boundaries of immersion, and interactivity. Together they are responsible for the industry's most commercially successful and critically acclaimed content. By coloring outside the lines of traditional storytelling, Tomorrow Never Knows has helped to create new methods, tools and technologies for future ER entrepreneurs. The founders' work has been nominated for, or won, every major industry award including the Emmys, the Oscars and the Webbys, and their films have premiered at many major global festivals including Cannes, Sundance, Tribeca, and the Berlinale.
International Campaign to Abolish Nuclear Weapons (ICAN)
The International Campaign to Abolish Nuclear Weapons (ICAN) is a coalition of non-governmental organizations in one hundred countries promoting adherence to and implementation of the United Nations nuclear weapon ban treaty. This landmark global agreement was adopted in New York on July 7, 2017. Since its founding, ICAN has worked to build a powerful global groundswell of public support for the abolition of nuclear weapons. By engaging a diverse range of groups and working alongside the Red Cross and like-minded governments, ICAN has helped reshape the debate on nuclear weapons and generate momentum towards elimination. The campaign was awarded the Nobel Peace Prize 2017, for their groundbreaking efforts to achieve a treaty-based prohibition of nuclear weapons. More information about ICAN can be found at: http://www.icanw.org
Nobel Media
Nobel Media AB develops and manages programs, productions and media rights of the Nobel Prize within the areas of digital and broadcast media, publishing as well as events.
The company spreads knowledge about the Nobel Prize awarded achievements and shares the Nobel Laureates' inspirational stories with a global audience. Included in the company's media portfolio is Nobelprize.org, the official web site of the Nobel Prize and production of official television programs such as The Nobel Prize Award Ceremonies in Stockholm and Oslo, The Nobel Banquet, Nobel Documentaries, Nobel Minds, Nobel Laureates and the Nobel Prize Concert. Through the web site and programs, millions of web users and viewers are reached all over the world.
Saul Zaentz Innovation Fund in Film and Media Studies at Johns Hopkins University
The Saul Zaentz Innovation Fund in Film and Media Studies is an incubator program at Johns Hopkins University whose central mission is to connect the Baltimore creative community with prestigious artists, veteran executives, and successful entrepreneurs from related industries for mentoring, knowledge sharing, team building, and access to funding.
For more information, please visit http://www.zaentzfund.com.