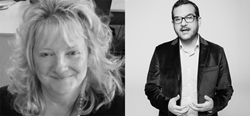 "They are a dream team. Extremely strategic and brilliantly creative." - Paris Hinson, co-CEO and chief creative officer
SAN FRANCISCO (PRWEB) April 12, 2018
Kraft Branding has announced two new senior management hires as the company increases its presence in Europe. The company has added Frank Amoros as the agency's chief growth officer based in Kraft Paris and Sandra Malone as managing director for Kraft Europe, based in London.
Over the past few months, the agency has increased its commitment to the European market as it continues to win business in the region, with the latest being a significant branding assignment for Barco, a global technology leader based in Belgium.
With over 20 years of account management experience at some of the world's greatest creative advertising agencies, digital agencies, media agencies and product companies, Frank Amoros has been responsible for innovative ideas, account management, leadership and growth initiatives at Young & Rubicam, Wunderman, Publicis, Crispin, Porter + Bogusky, Fullsix (Havas), Starcom and Creata.
His work for some of the world's leading brands includes AT&T, Diageo, Volkswagen, Viacom/CBS, BlueCross BlueShield, Coca-Cola, Anheuser-Busch InBev and McDonald's.
"Frank has a passion, and his expertise lies in agency growth and leveraging the power of a network to deliver for clients," said Antonio Patric Buchanan, co-CEO and chief strategy officer.
Sandra Malone brings a wealth of experience in the B2B and B2C space. Her experience includes leadership positions at Grant Thornton LLP, British Telcom, Cable & Wireless and 3Com where she managed international projects in Europe, Asia, the Middle East and the Americas. She brings a wealth of global branding experience especially related to value creation, strategic marketing, digital marketing and brand creation, development and management.
"Sandra is perfect to lead our day-to-day European operation, and her partnership with Frank will be critical to our growth as an agency. They are a dream team. Extremely strategic and brilliantly creative," said Paris Hinson, co-CEO and chief creative officer.
About Kraft Branding
Kraft is a branding and design studio that excels in finding innovative ways for clients to provide exceptional experiences to their customers. Its work includes consumer insight; brand innovation; creative development and mobile and technology solutions for global brands such as AT&T, Mini USA, DIRECTV, Newell Rubbermaid, Tenet Healthcare, Barco, Brookdale Senior Living and Evolve Biosystems. For more information about Kraft Branding, visit Facebook, Twitter or kraftsf.com.