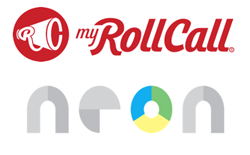 The myRollCall-NeonCRM integration optimizes event data and eliminates the hassles of manual data entry.
AUSTIN, Texas (PRWEB) April 10, 2018
myRollCall, a mobile and web platform designed to simplify, modernize and monetize fundraising events, today announced a partnership with NeonCRM that will allow its users to sync fundraising event data with donor data.
This seamless integration between donor management software and event management further simplifies the fundraising efforts for nonprofits and volunteer groups, so executive and development directors and their volunteers can focus their efforts where it really matters – raising funds for a worthy cause.
"We understand the struggles of working in the nonprofit space – restricted resources, raising money, organizing volunteers, and the list goes on," said Lorie DuPont, founder of myRollCall. "We're dedicated to providing nonprofits with simple, modern tools to streamline these processes, and are thrilled to partner with NeonCRM to provide our users with an integrated donor management platform."
The myRollCall-NeonCRM integration optimizes event data and eliminates the hassles of manual data entry. With a single click, an event's ticket sales, donation records and financial data are instantly exported to a NeonCRM account, where the data is mapped to an existing donor database.
"We're excited to partner with myRollCall to offer our users a comprehensive view of their event and donor data," said Jeff Gordy, chief executive officer for NeonCRM. "Being able to issue tickets, track event purchases and accept donations, and instantly map those transactions to your donor history provides our users with unprecedented insights into the giving patterns of their donors."
With the Neon CRM integration, myRollCall's full suite of functionality includes:

Integrated, multi-tier ticketing to easily accept payment and track RSVPs
Donation collection of both one-time and recurring gifts
Mobile check-in and -out to eliminate lines, wait times, and on-site computers
An event store to manage silent and oral auction items, raffles, paddle raises, etc.
Guest and table management to track guest info and transactions
Administrative tools to create team assignments, roles and responsibilities
Funds disbursement to recipient organization and/or vendors
Social sharing to promote the event
Grouping of and communication with donors for easy follow-up and outreach
Complete view of donors' event transactions and giving history
myRollCall will host a webinar with NeonCRM on Wednesday, April 25 at 1 p.m. CDT to further discuss simplifying, modernizing and monetizing fundraising events, with a special sneak peek of the groundbreaking new integration.
For more information on myRollCall, please visit http://www.myrollcall.com. To arrange a demo, please email us at info(at)myrollcall(dot)com.
myRollCall is a proud sponsor of the Nonprofit Technology Network's (NTEN) Conference happening April 11-13, and the Association of Fundraising Professionals' (AFP) International Fundraising Conference happening April 15-17, both in New Orleans.
About myRollCall
myRollCall's mission is to help nonprofit organizations, alumni associations and volunteer groups increase fundraising while building a strong donor community, one event at a time. Its mobile and web platform was created to simplify, modernize and monetize fundraising events, so that event organizers can focus on raising the funds needed for a worthy cause. myRollCall's partnership with nonprofit customer relationship management (CRM) companies through application programming interface (API) provides users a robust suite of event and donor management solutions. To learn more or to schedule a demo, visit http://www.myrollcall.com.
About NeonCRM
NeonCRM is a cloud-based nonprofit software suite that provides tools built to support the good work nonprofit organizations do. Regardless of size or industry, our CRM for nonprofits helps thousands of organizations and associations engage with donors, manage memberships, plan events, track volunteers, and much more. For more information, please visit http://www.neoncrm.com.