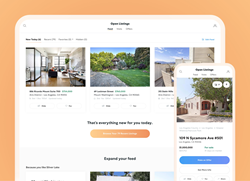 This new design is just a step as we continue to build the ultimate all-in-one home buying service.
LOS ANGELES (PRWEB) April 11, 2018
All-in-one homebuying platform Open Listings has launched fully redesigned website experience focused on creating an experience that gives their buyers an edge. That means increased speed, simplicity, and all the info they need, just a single tap away.
Here's what's new:
1. Simplified navigation that matches customers home buying process
Customers can see listing matches, schedule home tours, get detailed private property info, & create offers.
2. "New today" feature
This allows users to stay organized and on top of it with the 'New Today' tab in their Feed so that they never miss a listing.
3. A faster way to move buyers house hunt forward
Favorite or Hide properties every day. It's a simple way to clear out the noise and get closer to finding "the one."
To date, Open Listings has been known for providing a service that allows potential homebuyers to house hunt & get support from a homebuying expert team. Additionally, users of the real estate app can book free home tours on-demand, get access to property reports & private agent-only info and create offers 24/7. Open Listings expects a littany of new features to be released in 2018 to help make the process of buying a home simple and more affordable.
About Open Listings
Open Listings is the all-in-one home buying platform that makes buying a home simple and more affordable. Search houses for sale 24/7, get pressure-free advice from expert agents, create offers online, and save an average of $8,500+ with their 50% commission refund. To date, Open Listings has helped buyers get over $600 million worth of homes and save $6 million in home buying fees with their 50% commission refund.
Contact: Angeline Vuong, 800-501-2077, angeline(at)openlistings(dot)com