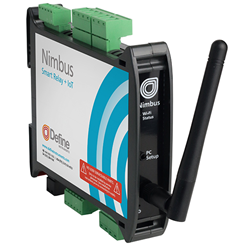 The Nimbus at last gives the owners of this industrial machinery a way to evaluate the overall health of their machine, and so avoid catastrophic failure or costly downtime
DALLAS (PRWEB) April 12, 2018
Industrial IoT instrumentation manufacturer Define Instruments will release the latest addition to its IIoT (Industrial Internet of Things) product range next week at Pack Expo East in Philadelphia (April 16-18)
The Nimbus is a smart relay unit with a built-in Cloud interface.
Designed specifically to allow industrial companies using process machinery to control and connect their machines to the Cloud, the Nimbus provides the opportunity for these companies to improve efficiency and reduce costs by utilising operational data from their machines to more accurately plan maintenance, consumables replenishment, parts replacement and other ongoing tasks.
"There are literally hundreds of thousands of unconnected industrial machines on shop floors, factories and manufacturing plants around the world," explains Define Instruments President, Anthony Glucina.
"The Nimbus at last gives the owners of this hardware a way to evaluate the overall 'health' of their machine, and so avoid catastrophic failure or costly downtime."
Many industrial companies are taking their first steps in deploying IIoT solutions like the Nimbus in their operations. A recent report by Engineering.com which surveyed 226 manufacturing professionals about their plans to include IIoT technology in their production environments reported respondents across all industries at an early stage of deployment with pilot projects.
Described as an "All-in-one solution" for controlling small machines, the Nimbus is conveniently compact (3.98" x 0.91" x 4.72") and provides 3 programmable relay outputs capable of switching mains powered equipment.
It supports a wide range of communication protocols including Modbus and MQTT with physical connections of WiFI, RS485, RS232 or external 3G/4G modem.
Pack Expo East is the East Coast's key packaging and processing technology event with over 6,000 attendees from industries including: Food and Beverage, Cosmetics, Personal Care, Pharmaceutical and Medical. Produced by PMMI (Association for Packaging and Processing Technologies) it will be held over 2 days at the Pennsylvania Convention Center, Philadelphia, Pennsylvania, 10am - 4pm daily.
See Define Instruments at Booth 2228 for a demonstration of the Nimbus Smart Relay and IIoT interface and its innovative mobile dashboard app.
ABOUT DEFINE INSTRUMENTS
With an ethos of simplicity and usability, Define Instruments manufacture smart and powerful products for industrial process measurement, indication and control. For 26 years Define Instruments have built innovative instrumentation for engineers who value products which don't require a high level of technical knowledge, can be configured in minutes and require little or no ongoing maintenance. Define Instruments offer their engineering design expertise to customize these products to suit your application. Define Instruments is ISO9001:2018 International Quality Standard accredited.