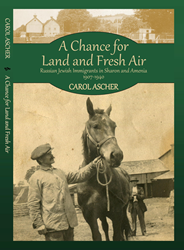 While telling a specifically Jewish story, Ascher's book honors the challenges of all immigrants who struggle to assimilate into a new land, learn a new language and take up a dramatically new way of life.
SHARON, Conn. (PRWEB) April 12, 2018
The Sharon Historical Society & Museum, located in Sharon, CT, announces the release of "A Chance for Land and Fresh Air, Russian Jewish Immigrants in Sharon and Amenia, 1907-1940" by distinguished historian and award-winning author Carol Ascher, Ph.D. This compelling narrative is about the courage, determination and imaginative spirit of thirty Russian Jewish families who, arriving in America at the turn of the 20th century, purchased small farms in western Connecticut.
Similar stories took place in thousands of rural communities throughout America, thanks to Baron Maurice de Hirsch, a Belgian Jewish philanthropist who believed that anti-Semitism would end if only Jews could own land and become productive farmers. For decades, a generous fund that he established offered mortgages and other support to Jews willing to try their hand at farming. Many of the original thirty families supplemented their farm income by offering kosher vacations to New York Jews. Around 1920 they began to move to neighboring Amenia, NY, on the train line, transforming the town into a lively Jewish resort.The book, which grew out of a 2017 exhibit at the Sharon Historical Society & Museum, resonates with audiences today whose immigrant families likewise struggled to assimilate, learn English and take up new professions. Carol was drawn to this story, as she is the daughter of refugees from Nazism. Growing up in Topeka, KS, she began writing at a young age to make sense of her two very different worlds: the community of Jewish refugees in Topeka and the Midwestern Christian world of her public school and neighborhood.
The author of seven books and numerous short stories, essays and scholarly articles, Carol has won several awards for her writing, including four PEN/National Endowment for the Arts Syndicated Short Fiction Awards, two awards from the New York Foundation for the Arts, a Thomas Carter award for literary nonfiction, and a fellowship from the Memorial Foundation for Jewish Culture. She frequently lectures about researching local histories, recording oral histories and conducting archival research.
Hear Carol Ascher speak with WSHU Morning Edition Host Tom Kuser about the history of Russian-Jewish immigrants in Sharon and Amenia.
For more information about the author, please visit: http://www.carolascher.net. To read an excerpt, find more information about the book or purchase it please visit: https://www.achanceforlandandfreshair.com. Follow Carol Ascher on Facebook and Twitter.
The book is also available for purchase via the Sharon Historical Society & Museum website, at select fine bookstores, or via Amazon.com.
# # #
The Sharon Historical Society and Museum collects, preserves and shares Sharon's stories, building bridges between the past, present and future through its collections, exhibitions, and programs. Visit us on Facebook or on our website http://sharonhist.org/