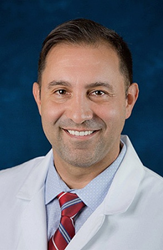 Dr. Ramos is the first and only trained interventionalist who can perform Dorsal Root Ganglion Stimulation in Orlando, Florida.
(PRWEB) April 10, 2018
Dr. Ramos will join leading physicians from various fields in speaking to medical professionals, with a focus on "Expanding Knowledge, Advancing Treatment."
This symposium is ideal for primary care and internal medicine physicians, as well as advanced practice providers and nurses who want to further their knowledge of treatments.
In addition to Dr. Ramos' presentation, other event topics will include:

Surgical neuroscience Management of Spine
Medical and Surgical Management of Stroke
Brain Tumors
Trigeminal Neuralgia
Neuromuscular Disorders
Stroke Case Study
Orlando Health is an approved provider of continuing nurse education, and course credits will be applied.
Event details:
Date: April 14, 2018
Time: 7:00 am – 4:30 pm
Location: Orlando Health Orlando Regional Medical Center
Pricing & registration: visit OrlandoHealth.com/neurosymposium
ABOUT DR. RAMOS
Dr. Rick Nieves-Ramos is double board-certified with a sub-specialty certification in Pain Medicine and specialty certification in Anesthesiology by the American Board of Medical Specialties. He has worked with world-renowned experts in lower back pain therapy, and technique innovators at the University of Miami.
Dr. Ramos participates in new product development for Spinal Cord Stimulation devices — he is the first and only trained interventionalist who can perform Dorsal Root Ganglion Stimulation in Orlando, Florida. He currently practices at Pain Relief Centers' Central Florida location.
ABOUT PAIN RELIEF CENTERS
With more than 40 convenient pain management clinic locations and counting, Pain Relief Centers serve hundreds of patients daily while maintaining a focus on providing comprehensive, personalized care for each patient. The highly-skilled physicians at PRC take a multidisciplinary approach to advanced pain management, assessing your individual needs to more effectively relieve your chronic pain and restore your quality of life.
PRC's board-certified, fellowship-trained physicians are equipped with state-of-the-art technology and a comprehensive, multimodal approach to treating your chronic pain. Relieving your pain and ensuring your comfort are top priorities at Pain Relief Centers.
If you are tired of living with chronic pain and want more information on options for minimizing or eliminating your suffering, contact Pain Relief Centers today at (800) 215-0029 or visit http://www.yourpainreliefcenters.com to set up a consultation at one of our clinics.