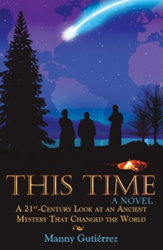 BOYNTON BEACH, Fla. (PRWEB) April 10, 2018
Manny Gutiérrez marks his publishing debut with the release of "This Time: A 21st-Century Look at an Ancient Mystery That Changed the World" (published by LifeRich Publishing). This novel follows the "best known rebel in history" as he returns after several centuries and turns the modern world upside down.
It was Christmas Day, Dec. 25, 2000. A series of unexpected and unexplainable deaths happens across the globe during the birth of the only child of a rebellious young couple. Two clues group the hundreds of cases together, but only the sharpest and hardest-working investigators and journalists see these clues.
The child, a unique individual, is going to turn the world upside down. Although his power and actions are reminiscent of the best known rebel in history, his noble approach will delight his followers and make deadly enemies of his opponents. Will he succeed in his personal quest?
A mixture of science fiction, action and dedicated detective work, "This Time" addresses modern questions and its possible solutions.
"I wanted to share my ideas and beliefs. I wanted to make readers sit back and ponder 'What if?' about several issues. My personal particular 'take' on interrelated major subjects can elicit questions that I will gladly attempt to address in the book's website," Gutiérrez shares.
"This Time: A 21st-Century Look at an Ancient Mystery That Changed the World"
By Manny Gutiérrez
Hardcover | 5.5 x 8.5in | 272 pages | ISBN 9781489714602
Softcover | 5.5 x 8.5in | 272 pages | ISBN 9781489714619
E-Book | 272 pages | ISBN 9781489714596
Available at Amazon and Barnes & Noble
About the Author
Manuel "Manny" Gutiérrez was born in Havana, Cuba, in 1947 and immigrated as a political refugee to the U.S. in 1961 through the government program Operation Pedro Pan. He has a bachelor's degree in ocean engineering from Florida Atlantic University (1972). He worked in land surveying and in civil engineering for 12 years, became a state-licensed land surveyor and mapper in Florida (1984) and then co-owned and managed Survey South, Inc. in Delray Beach from 1985 to 2000. Gutiérrez wrote often, in Spanish and English, for family and friends, especially heartfelt requiems, poetry, short stories and serious essays; but work and a growing family took up most of his leisure time. Now retired, "This Time" is Gutiérrez's first book, but an anthology of short stories of dissimilar genres is in the making. Readers can follow him at http://www.mannys.website and http://www.CampMatecumbeVeterans.com.