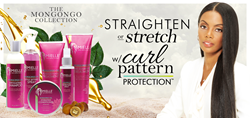 Developing the Mongongo Collection continues to prove Mielle Organics stays true to our mission of developing products with healthier ingredients for healthier hair and length retention.– Monique Rodriguez, CEO and Founder
CHICAGO (PRWEB) April 10, 2018
The leading and most trusted name in ethnic hair care, MIELLE™ Organics, launches their NEW Mongongo Collection, a protective Straightening and Stretching System for natural, relaxed and all hair types.
The advanced and innovative collection features Mongongo Oil with desert-sun-defying heat protectant properties. Mongongo oil has been around for centuries; deriving from the fruit of the Manketti tree located in Sub-Sahara Africa, thriving in extremely hot weather conditions. Native Africans would use the rich oil to coat their hair as a protectant against the sun and UV rays. Mongongo Oil reacts to heat by producing polymers, providing a protective layer on the hair which makes this collection great for protection against thermal straightening and preserving the curl pattern. Women and men with natural hair can also go on MIELLE's website to learn Curl Pattern Protection™ Tips for curly worry-free hair.
In addition to these benefits, Mongongo Oil is rich in vitamins with emollient properties. The collection presents NEW Pomade-to-Oil technology with its rich conditioning, giving longevity and reversion resistance to straightened styles with an illuminating shine!
The Mongongo Collection has three regimens (maintenance, straightening and stretching) complete with a Pre-Shampoo Treatment, Exfoliating Shampoo, Hydrating Conditioner, Style Setting Spray, Thermal Protectant Spray, and Pomade-To-Oil Treatment. The Mongongo Collection is now available in Target, Walmart, CVS and Sally Beauty.
The affordable Mongongo Collection will be a leader for healthier straightening solutions and style versatility on natural, transitioning, and relaxed hair.
ABOUT MIELLE™ ORGANICS
Mielle Organics, created in 2014 by Registered Nurse and scientist Monique Rodriguez, like most successful brands today began - in a garage! With the creation of the first Mielle Organics product, the Advanced Hair Formula, a unique proprietary blend of herbs, amino acids and minerals to support healthy hair, skin and nails, and immune system. After popular demand, Mielle Organics began producing products customers demanded with the introduction of the Mint Almond Oil, acclaimed for its scalp sensation and root stimulation that aid in hair growth and provide illustrious shine.
Today, available in retail stores across the country and eight seven countries, Mielle Organics is armed with an array of products including best sellers: Babassu Oil and Mint Deep Conditioning Protein/Moisture Replenisher, Detangling Co-Wash, Moisturizing Avocado Hair Milk, Adult Healthy Hair Formula and the White Peony Leave In Conditioner, just to name a few. With a heavy emphasis on incorporating organic ingredients being its "root to results," Mielle Organics continues to create a line of natural beauty products for all hair types.