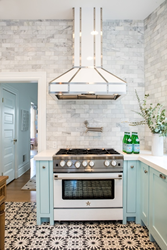 BlueStar's combination of commercial-grade performance and unrivaled customization options provides inspiration for both design professionals and their clients to create a completely distinctive space.
BLANDON, Pa. (PRWEB) April 11, 2018
BlueStar®, manufacturer of high-performance kitchen appliances for the home – and a trailblazer in color innovation – announced that IDF Studio in San Francisco, California, took home the grand prize in its third annual Kitchen Design Competition. The winning design shows how color, customization and performance come together in a full BlueStar® kitchen suite, including range, ventilation hood and premium refrigeration, to create a highly detailed, bespoke space.
Internationally acclaimed designer Eric Cohler led the judging panel. Cohler admires the winning design for its outstanding use of materials to create a warm and inviting space. "The clean lines of the all-white BlueStar appliances are offset perfectly by a geometric ceramic floor and antique wood island. Another special touch is the marble subway tile extending to the ceiling accentuating height. This is further reinforced by the extruded chimney and hood," said Cohler. "I applaud the designer and homeowner's bravado in expressing a unique point of view in what could have become a tight and uninspired space."
All finalists were applauded for their thoughtful designs and creative use of BlueStar® appliances in multiple colors and metal trims. The five finalists are:
1. Cindy Rinfret, Rinfret, Ltd., Greenwich, CT
2. Debbie Gottlieb, Finelines Interiors, Westchester, NY
3. Wendy Berry, W. Design, Chagrin Falls, OH
4. Pamela Polvere, Pamela Polvere Designs, Elmwood Park, IL
5. Suzanne & Garry Shumaker, Shumaker Design & Build Associates, Evanston, IL
The winning entry, located in San Francisco's Cow Hollow neighborhood, reflects the homeowner's fun, youthful personality. The client is a librarian and volunteers for the SPCA. IDF Studio's Design Director Jaclyn Christensen took on the challenge of how to include an animal theme and the color pink throughout the home while designing a refined, sophisticated space.
The kitchen design channels the client's playfulness. "I used my love of bold colors and patterns to create a palate that would not only suit her immediate needs, but also be classic enough to last through the years," said Christensen. The white BlueStar built-in refrigerator and 36-inch gas range with white knobs both feature nickel accents and are showstoppers. "We loved BlueStar's commercial kitchen suite offering; not only for the freedom to customize any color to mesh with our unique design palette, but also for the rugged industrial style and top-notch performance. The client loves to cook at home and entertain, and these appliances hit every button in terms of looks and performance."
"BlueStar's combination of commercial-grade performance and unrivaled customization options provides inspiration for both design professionals and their clients to create a completely distinctive space," said Eliza Sheffield, President, BlueStar®.
BlueStar® cooking and refrigeration products are designed for discerning home chefs who demand restaurant-quality results in their own kitchens. In business since 1880, the Pennsylvania-based manufacturer specializes in handcrafted gas ranges, cooktops, electric and gas wall ovens and complementary kitchen ventilation hoods and premium refrigeration. The company's spectrum of highly innovative appliances stays true to an authentic restaurant kitchen experience at home. Available in over 750+ colors and finishes, and with almost infinite configuration possibilities, BlueStar® offers unmatched options for customization.
All BlueStar® products are designed to withstand the rigors of the busiest home kitchens. BlueStar® gas ranges provide the home chef with a cooking experience that only can be matched by a restaurant kitchen environment. Its powerful burners provide up to 25,000 BTUs of cooking power for consistent, controlled heat. And for delicate soups and sauces, no stove matches BlueStar's gentle 130-degree simmer burner. The ovens are large enough to hold a full size commercial sheet pan.
BlueStar® pro-style kitchen ventilation hoods merge heavy–duty construction with seamless design to offer uncompromised durability, functionality and beauty. Built to meet professional standards inside and out, BlueStar® hoods combine high-gauge metals and commercial-style baffle filtration systems. Each hood can be painted to match the cooking equipment and can be outfitted with stainless steel, brass or copper metals. These can be combined with distinctive hardware such as utensil rails, rivets and strapping for maximum impact.
With durable stainless steel interiors, dual compressors for enhanced food preservation and roomy interiors, the BlueStar® Built-In Refrigeration line is designed for serious cooking and entertaining. The refrigerator's fully extending bottom shelf is designed to fit a full-size commercial sheet pan — as is the freezer shelf – that way, extra-large pans prepped with pastries or hors d'oeuvres can go straight from the refrigerator or freezer into an oversized BlueStar® oven, another brand hallmark.
The contest, which attracts entries from across the country, honors design professionals who incorporate BlueStar® products into innovative, beautiful kitchen designs. The Grand Prize winner receives BlueStar® appliances for his/her home and the title BlueStar® Kitchen Designer of the Year.
The 2019 competition is open for entries from now through February 8, 2019. The kitchen design entry can be any style kitchen. A minimum of one BlueStar® cooking appliance is required. Ranges, rangetops, refrigerators, gas and electric ovens and cooktops meet this requirement. Official rules and entry criteria can be found at http://www.bluestarcooking.com/inspiration/kitchen-design-contest/.
For general information on BlueStar® appliances, please visit http://www.bluestarcooking.com.