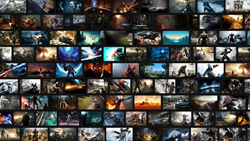 We believe in the idea behind RAWG. It introduces new economics to gaming and creates a win-win scenario.
(PRWEB) April 11, 2018
Video games have come a long way ever since Nintendo revolutionized the gaming industry in the 80s through its launch of cartridge-run game console, NES. The market has been growing steadily in the past few decades as gaming itself transformed to be part of the pop culture and has since managed to secure one of the top four drivers in the entertainment industry with over 2 billion gamers worldwide.
More than 70% of gamers today do not limit themselves to specifically play on one platform due to the wide range of selections users have across all gaming systems. Despite that, there has not been a central platform that allows gamers to sync their game library, progress, and activities cross-platform.
Launched in 2017, RAWG has become the "IMDb of games" by congregating over 56,000 games from well-known platforms such as Steam, PlayStation, Xbox, Nintendo, plus other renowned retro game platforms. RAWG users are able to interact with gamers from anywhere without having to jump from platform to platform through this database. What the company created is essentially a centralized community amongst gamers. And, through the data collected from users' game library, reviews and community interest, RAWG will also be able to formulate a personalized list of game recommendations for each player on the system.
This summer, RAWG plans to introduce 'RAWG tokens', an all new internal currency which will be used as a reward to gamers on the platform in-game achievements—the best measure the estimate users' time and skills invested in a game. In other words, RAWG users will be able sync their achievements from Steam, PlayStation, and Xbox with the platform in exchange for tokens whereby the amount is determined through the rarity of each achievement.
RAWG utilizes cryptotech and blockchain technology to power its token. The tokens value is backed by advertising: one token equals 10 impressions of premium ads on RAWG and can be exchanged for partner offers or traded for gaming-related goods and services. RAWG has partnered with leading game development companies in the industry such as Playrix, Game Insight, Xsolla, Gaijin Entertainment, Wargaming, and more.
RAWG tokens will be live in the summer of 2018. To achieve this timeline, RAWG has also announced a crowdsale with a target to raise $10 million in three separate rounds, some of which has already been raised.
"We've closed the soft cap with $2M from Crypto BAZAR, who are professional pre-ICO investors," said RAWG founder Gadji Makhtiev, "The second round is starting now, we are working to secure the next $4M from crypto investment syndicates as a goal. However, the main round for us is the last one. It will launch later this spring and we are going to build a community of gamers supporting RAWG and the idea that achievements are worth something real."
The crowdsale economy is quite simple: for the first three years after the crowdsale only RAWG tokens will give advertisers access to RAWG. The initial price of one token is $0.03, and one token is equal to 10 impressions of premium display ads on RAWG. That makes up $3 for CPM. The funds raised will be invested into adding new features – a rewarding system, recommendation algorithm, social and pro features, and marketing. The more people there are, the higher advertising costs will be.
"We believe in the idea behind RAWG. It introduces new economics to gaming and creates a win-win scenario." Said Oleg Ivanov managing partner of Crypto BAZAR, "Players will be rewarded for playing games they love, advertisers will get gamers with the deepest targeting on the media market, and RAWG will get a loyal audience."
RAWG TOKEN SYSTEM KEY FEATURES
Users will be rewarded for rare in-game achievements on gaming platforms synced with their RAWG account (Steam, PlayStation, and Xbox).
Creators and editors on RAWG will also be rewarded tokens for contributing to the community.
Tokens can be exchanged for goods, services, or discounts from RAWG's partners (Wargaming, Gaijin Entertainment, Playrix,the list will be expanded).
Tokens could be changed, gifted or sold by users through any way permitted by local legislation.
Advertisers could buy tokens on the market and change each one for 10 views of premium display advertising on RAWG.
RAWG KEY FEATURES
The vast content-rich database of over 56,000 games and 15,000 game creators.
Unique UGC-tools including games collections and emoji reviews.
Automatic synchronization of games from Steam, PSN, and Xbox.
Social features to follow friends and celebrities and watch their gaming experience in one place.
The personal gaming library with stats about platforms, genres, developers, etc.
The release calendar.
About RAWG:
RAWG.io is a video game discovery platform that converts your skills into goods and services. Dubbed "the IMDb of games," it boasts a database of 15,000 developers and over 56,000 games across half a hundred platforms. RAWG promises to be the first service to recommend games based on cross-platform data and already supports synchronization of Xbox, PlayStation, and Steam profiles. Even though gaming requires a considerable investment of time and skills, players usually do not receive any tangible rewards. Looking to change this, RAWG has announced the development of a blockchain solution that would reward the global gaming community with RAWG tokens.
Find RAWG on Facebook, Medium, Twitter
About Crypto BAZAR:
Venture fund Crypto BAZAR invests into blockchain-based projects at the pre-ICO stage. Crypto BAZAR has 11 projects in its portfolio. At the moment, its assets under management exceeds $15M.
Additional info about RAWG token: https://token.rawg.io/
Video about RAWG token: https://www.youtube.com/watch?v=Vlatly4vbkc
Our Telegram group: https://t.me/RAWGeng
Media-kit: https://goo.gl/nX1VWQ
Contact:
RAWG PR team
pr@rawg.io
Mike Ger
Lead PR manager
ger@rawg.io