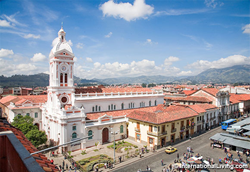 I was shocked at the amount: 57 cents. Compare that to living in California
BALTIMORE (PRWEB) April 10, 2018
The average American household spends $2,197 on property taxes each year. But in some states—like New York, New Jersey, Massachusetts, Connecticut, and California—property taxes are typically much, much higher. Plus with new laws in place that restrict the deduction of state property taxes from federal returns, home owners—especially in those high-tax states—are likely to pay more than ever.
However, it's possible to slash property-tax rates by as much as 99% by moving overseas to countries like Ecuador, Mexico, and Portugal, according to a new report from International Living.
The report points to destinations where expats say they have seen significant savings in their tax bills.
"If you've been paying $7,000 a year in state property tax in New Jersey on a home worth $300,000, you should know: There are places around the world where you could slash that tax burden to as little as $200 a year on a comparably priced property," says Jennifer Stevens, Executive Editor, International Living.
"Tax savings is one of the single biggest ways expats report that they save when retiring overseas. Of course, they're also typically spending less on day-to-day expenses as well, from food to household help to electricity and water."
According to International Living's new report, here are three countries where it's easy to spend less on property tax and thus lower the cost of living in retirement.
Property taxes in Ecuador are among the lowest in the world. Even on a large house, annual property taxes rarely amount to more than $100, and it is unusual to see a capital gains tax of more than a few hundred dollars. Many American retirees are enjoying the savings they've made with a move to this South American gem.
"[In the States,] my condo's annual property tax was just under $5,000. Added to that, I used to pay $350 monthly for my home owners' association fee—now it's [increased to] $468 every month, according to my former next-door neighbor," says expat Bartley D'Alfonso of his life in the U.S.
That condo, in Orange, CA, was a single story, two-bedroom, two-bathroom unit, about 1,000 square feet in size.
When D'Alfonso began to feel the pinch of trying to live on his Social Security in the States, he moved to the highland university town of Cuenca, Ecuador to lower his costs and his stress level.
He sold his California condo and bought a newly built one in Cuenca. "My three-bedroom, three-bathroom, two-story condo [in Cuenca] cost $115,500 and—get this—my annual property tax was $88 in 2015… $55 in 2016…and I paid $44 in 2017."
On January 8 of this year, Bartley went to the city municipal office to pay his annual property tax. "I expected to pay $22 this year. So, when the clerk told me how much was due, I was shocked at the amount: 57 cents. Compare that to living in California."
This shockingly low figure was due to reductions including Bartley's 50% senior citizen discount and a 10% discount for paying during the first 10 days of January.
So, what does Bartley do with all the money he saves by living in Ecuador? "For starters, keep watching as my wallet and bank account get fatter," he says. "I'm also able to take tour bus trips to visit nearby towns and villages. Recently, I installed a Jacuzzi in my patio, after remodeling the cement walls with ceramic tiles, and treated myself to a new—and well deserved—professional digital camera and lens kit.
U.S. citizens are also saving thousands of dollars on their tax bills each year by moving to Mexico. It is quite common in Mexico to have annual property taxes of $100 or less, and they seldom run higher than about $300. Scot and Vicki Lyall had been coming to the town of Playa del Carmen, on Mexico's Riviera Maya, for years for vacations. But when the opportunity came up to buy a two-bedroom condo in a beachfront building at a good price 11 years ago, they jumped at the chance.
The Lyalls have seen a major cut in their cost of living since moving down, especially in basic living expenses.
"Overall, it's 50% of what you would pay in the U.S. for the same standard of living," says Scot.
Their HOA fees are $125 a month: That covers the meticulously landscaped grounds, 24-hour guard, a maid for the common areas, and a community pool. Their property taxes come to just $140 a year.
Similarly, Scottie and Jim Watson, have lived in Playa del Carmen for seven years. They live in a modern condo building just off the beach and a quick walk from the main street of Quinta Avenida. They have a pool right outside their sliding glass doors.
"It's less expensive to exist down here," says Jim, who reports they pay $200 a year in tax on their condo. "That's instead of paying $6,000 to $8,000 in property taxes back home. So we indulge ourselves and have a cleaning lady, which we wouldn't have had in the States."
Portugal offers arguably the lowest cost of living in Western Europe today. Its rich culture, historic towns, temperate climate, low costs, and diverse landscapes are attracting American retirees in increasing numbers.
When compared to the U.S., property tax in Portugal is a third of the national average and a quarter of California's property tax. Annual property taxes depend on the type of property.
Tax is based on the rateable value of the property not the real value. The rateable value for urban property is lower than the real market value and is based on a percentage scale ranging from 0.3% to 0.8% depending on the age of the property, the Municipal Council Area the property is in, size, level of luxury, and a few other factors.
Five years ago, International Living Correspondent, Tricia Pimental and her husband moved to Portugal. Not only did their day-to-day lifestyle improve but their cost of living plummeted at the same time.
"Keith and I immediately saw our expenses fall to between one-third and one-quarter of what they were back in the U.S. The truth is, almost everything in Portugal is less expensive," says Tricia.
Tricia and Keith recently bought a five-bedroom house with mountain views sitting on four acres of landscaped property in the Beria Baixa region for $265,000.
"Our house has mixed property of rural and urban use. Its tax value is assigned by the nearby city of Fundão. Our tax bill is $673.39."
Learn more about how expats save on their property taxes in Ecuador, Mexico, and Portugal, plus two extra retirement destinations, in the full story, here: Americans Slash Their Taxes…as Expats Overseas
Editor's Note: Members of the media have permission to republish the article linked above once credit is given to Internationalliving.com
Further information, as well as interviews with expert authors for radio, TV or print, is available on request. Photos are also available.
For information about InternationalLiving.com content republishing, source material or to book an interview with one of our experts, contact PR Managing Editor, Marita Kelly, +001 667 312 3532, mkelly(at)internationalliving(dot)com
Twitter: @inliving
Facebook: https://www.facebook.com/International.Living/
About International Living
For 37 years, InternationalLiving.com has been the leading authority for anyone looking for global retirement or relocation opportunities. Through its monthly magazine and related e-letters, extensive website, podcasts, online bookstore, and events held around the world, InternationalLiving.com provides information and services to help its readers live better, travel farther, have more fun, save more money, and find better business opportunities when they expand their world beyond their own shores. InternationalLiving.com has more than 200 correspondents traveling the globe, investigating the best opportunities for travel, retirement, real estate, and investment.