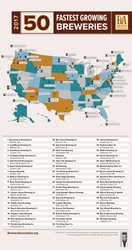 ROYAL DOCKS BREWING CO NAMED AMONG FASTEST GROWING CRAFT BREWERIES OF 2017 BY THE BREWER'S ASSOCIATION
CANTON, Ohio (PRWEB) April 10, 2018
Royal Docks Brewing Co of Jackson Township was named one of the fastest growing small and independent craft breweries by the Brewers Association (BA) — the not-for-profit trade group representing small and independent craft brewers. The inaugural list offered insight into the diversity of growth within the craft brewing industry.
"This is truly a high honor and, personally, a vindication of the hard work and investment made by every member of the Royal Docks team over the last three years," said John Bikis, the brewery's founder. "I've always sensed we were doing well for our age and resources, but I was shocked to learn that we were performing well enough to be included in a list like this."
Royal Docks is ranked 5th overall among 50 small and independent breweries from across 24 states.
Median growth from 2016 to 2017 for these breweries was 224 percent; the median size of breweries on the list went from 284 barrels in 2016 to 984 barrels in 2017. These brewing companies represent 5.5 percent of craft's growth by volume for 2017 and include eight brewpubs, 40 microbreweries and two regional craft breweries.
Ohio was among 12 states to have more one brewery represented on this inaugural list, with Cleveland's Platform Beer Co. being ranked in 35th place.
"It makes all the hours behind the wheel travelling between markets, visiting customers, meeting craft beer lovers, making, canning and delivering beer worthwhile," Dave Sutula, Royal Docks' Brewmaster said. "Especially because I think our trajectory has been pretty untraditional in terms of how we've built whatever success we've had, it's a welcome accolade especially right now, as we commission our new 8000 barrel production facility and cannery and start shipping cases this spring."
"With 5 percent growth overall for small and independent brewers in 2017—and microbreweries and brewpubs delivering the majority of that—we wanted to spotlight some of the breweries driving that growth," said Bart Watson, chief economist, Brewers Association. "As the growth base for craft becomes more diffuse, these fast growing brewing companies illustrate that a diverse set of success stories still exist."
ABOUT ROYAL DOCKS BREWING COMPANY:
Founded in 2015, Royal Docks fuses the craft beer renaissance with European pub culture in a contemporary, American style. We produce big beer in small batches and offer them on draught and in cans all around Ohio. You can tour our Jackson Township, Canton, Ohio Brewhouse and Cannery on the second and fourth Saturdays of every month starting this May and all of our beers can be sampled at our taproom featuring our critically-acclaimed kitchen, regular live entertainment and beer to go.
ABOUT THE BREWERS ASSOCIATION:
The Brewers Association (BA) is the not-for-profit trade association dedicated to small and independent American brewers, their beers and the community of brewing enthusiasts. The BA represents 4,000-plus U.S. breweries. The BA's independent craft brewer seal is a widely adopted symbol that differentiates beers by small and independent craft brewers. The BA organizes events including the World Beer CupSM, Great American Beer Festival®, Craft Brewers Conference & BrewExpo America®, SAVORSM: An American Craft Beer & Food Experience, Homebrew ConTM, National Homebrew Competition and American Craft Beer Week®. The BA publishes The New Brewer® magazine, and Brewers PublicationsTM is the leading publisher of brewing literature in the U.S. Beer lovers are invited to learn more about the dynamic world of craft beer at CraftBeer.com and about homebrewing via the BA's American Homebrewers Association® and the free Brew GuruTM mobile app.