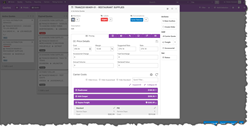 VIA® is that one solution brokers have been searching for that gives them everything they need to conduct business throughout the lifecycle of a load.
PERRYSBURG, Ohio (PRWEB) April 10, 2018
Tranztec Solutions, a leader in transportation technology, announced today that they are expanding their patent pending VIA® Platform to add next-gen bidding, rating, and carrier management capabilities for its brokerage, logistics, and 3PL partners.
VIA® Visual Transportation Manager™ which already provides a robust offering of tools for Brokerage and 3PL companies including freight tracking, planning, and visibility, can now be utilized to instantly provide rating and booking capabilities in additional to providing end-to-end carrier communications with carriers through its Carrier Portal feature. "This is going to help the broker market tremendously because gone are the days where a team has to pick up the phone and negotiate carrier rates to produce a quote for a customer," explained Brad McMichael, Tranztec's Sales and Marketing Manager. The VIA® platform is directly integrated with over 20 of the largest carriers including UPS, XPO, FedEx, YRC, Holland and more for rating, booking, tracking, and document management. Multi-service rates can be obtained instantly, and loads can be booked and tracked with zero manual effort. Smaller carriers can quote and bid just as easily with VIA® through its integrated RFQ system that allows those carriers to find freight and bid automatically through e-mail or by using the VIA® Carrier Portal.
VIA® also enhances end communications by enabling, the broker, customer, and carrier to collaborate in a single portal and produce customer quotes based on the rates being pulled from multiple sources - automatically sending them back to the customer with pricing based on an automated rate profiles. "The real-time sharing and collaboration that VIA allows between brokers and carriers to explore possibilities from being able to share rates, services, and visibility is just the tip of the iceberg," said McMichael. "VIA® is that one solution brokers have been searching for that gives them everything they need to conduct business throughout the lifecycle of a load," McMichael explained, "you can receive RFQs from customers, pull rates from carriers, send quotes to customers, tender loads, track loads, and produce reports all in one easy to use offering."
Tranztec's VIA® Visual Transportation Manager™ is completely web-based platform, and fully integrates with most TMS systems and has a typical implementation time of less than 24 hours. This is another feature McMichael claims differentiates their offering from their competitors.
Tranztec provides free web-based demonstrations of VIA® Visual Transportation Manager™ to anyone interested in the platform at http://www.viavtm.com.
VIA® can also be seen at the Transportation Intermediaries Association's Annual Capital Ideas Conference and Exhibition April 9th-11th in Palm Springs, CA.
About Tranztec Solutions, Inc.
Tranztec Solutions is a leading developer of transportation and logistics applications and integrated software solutions. Founded in 2001, Tranztec has expanded to 3 locations and provides transportation focused solutions and consulting services to clients throughout North America. VIA is a registered trademark and VTM, Visual Transportation Management, and Visual Transportation Manager are trademarks of Tranztec Solutions, Inc.