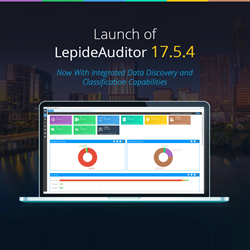 We wanted to find a way of helping people get value from their existing investments, so we created this free integration for Discovery and Classification.
AUSTIN, Texas (PRWEB) April 11, 2018
Lepide USA Inc., a leading provider of IT security and compliance solutions, announces an important milestone in their offering as they release a new integration to help organisations get real time alerts and schedule reports as to how their users are operating with their classified, tagged, sensitive data. With GDPR fast approaching and insider threats on the rise, this new integration solves a poignant and growing problem.
Aidan Simister, CEO, notes, 'While our customers really love how easy we make keeping track of user behaviour, permissions and changes to their systems and data, we were also often being asked if we could help them with data discovery and classification. As a Microsoft gold partner, we already knew there were very powerful data discovery and classification capabilities built into Windows Server which were underutilised, mainly as the reporting was complex. We wanted to find a way of helping people get value from their existing investments, so we created this integration that enables you to get intelligence and context through threshold alerts and scheduled reports to help you see what's really happening to your most sensitive data. Why re-invent the wheel? We're doing what we did with Native Auditing all those years ago to the Data Discovery toolkit now; by utilising a wealth of data, giving it context and bringing it to life."
Simister goes on to note "this is an excellent opportunity also for our partners to really add value. Some of our competitors are attempting to sell such solutions, often into six figure deals, where in many cases it really isn't necessary. With some relatively easy configuration and integration into Lepide you have a comparable solution. And, while it's pretty simple to setup, we're also offering free training to our partners and end users in getting this feature set up within their
environments."
About Lepide
Lepide are a global provider of IT security and compliance solution. They help some of the world's largest enterprises address insider threats, data leakage, privilege abuse, along with compliance mandates such as GDPR, SOX, HIPAA and more. They have created an auditing platform that offers a proactive means of keeping track of unstructured data and the systems that surround it.