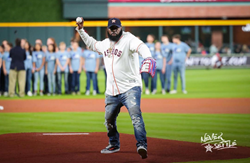 HOUSTON (PRWEB) April 10, 2018
This past weekend Trae Tha Truth threw out the first pitch for the World Champion Houston Astros Opening Day Weekend Ceremony. Recently debuting his brand new album, "Hometown Hero," Trae gives his first hand account of the destruction and depravity of Hurricane Harvey. His album enter all musical platforms March 16th, while also serving as the Texas Ambassador for the SXSW Music and Film Conference 2018, he still found time for over 30 performances and a myriad interviews with industry titans and media outlets. Most recently during his New York visit, Trae Tha Truth dropped by the popular nationally syndicated radio and television show New York's Power 105.1 to discuss his new album, relief efforts, and new episodes of his cartoon airing on 420 TV. Trae also spent time with Gallery Furniture Business Owner, and Philanthropist Jim "Mattress Mack" McIngvale where they were recognized at the "Dress to Kilt" Event that donates nearly $14 Million Dollars to Navy Seals and their families. Mack and Trae worked very closely together after the hurricane offering supplies, aide, clothing, and shelter to people displaced by Hurricane Harvey..
Also, this Saturday Trae will be performing for the Western Conference and league leading, Houston Rockets, earlier this year Trae was recognized by the Rockets at a game; Trae also sunk a $5,000 free-throw with one-hand for charity.
contact for interviews or press | links RELIEFGANG(at)gmail.com
release prepared by TJ Falkahn
reliefgang.com https://www.gofundme.com/reliefgang
Instagram | Twitter | Facebook @traeabn @reliefgang