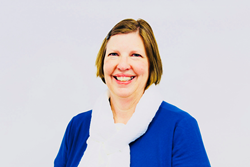 In crisis situations, having the time to find (the right) solutions adds to the stress and often is heartbreaking for the family. With Caring Transitions, you only have to make one call. - Mary Main
SIOUX FALLS, S.D. (PRWEB) April 10, 2018
South Dakota natives Mary and Dan Main are pleased to announce that they've come home to open their own business – Caring Transitions of Sioux Falls.
Caring Transitions' specially-trained team can handle organizing, packing, de-cluttering, moving, resettling, in-person and online estate sales, liquidations, and preparing homes for market. Caring Transitions specializes in managing senior relocations, but the services are also perfect for busy families and individuals in need of assistance. Caring Transitions of Sioux Falls serves all of Sioux Falls as well as the surrounding areas.
Prior to opening Caring Transitions, the Mains realized they had reached a point where it was time for Mary to retire from her corporate career, sell the business Dan owned, downsize out of their too-big house and find their next opportunity. Also, during this time, they experienced the real-life challenges of elderly relatives needing to make up-ending changes in their lives.
"I understand the kinds of stresses many of my clients are facing – I've seen multiple family members go through some of the same challenges. For example, after my 90-year-old aunt was displaced by a condo fire on New Year's Eve in 2016, she moved three times in six months. She was moved to first a hotel, then temporary housing and finally to independent living. This is where I first learned about Caring Transitions. As we discovered, they provided end to end services ranging from downsizing, moving, resettlement and most importantly disposal and liquidation of the remaining estate. My aunt is feisty and a woman who knows her own mind, but she was overwhelmed by the uncertainty of her future. Caring Transitions gave her back her piece of mind and she continues to thrive in her new home," Mary said.
"There are so many resources today to help seniors and their families, but it does take research, persistence and attentiveness to find the right support and solutions. In crisis situations, having the time to find those solutions adds to the stress and often is heartbreaking for the family. With Caring Transitions, you only have to make one call," she added.
Prior to opening Caring Transitions, Mary built a long career in banking with experience in finance, real estate, construction risk management and project management. Dan owned another business. After selling that business and retiring early from banking, the Mains decided to look for a new opportunity that would allow them to serve the community in a new way.
Mary spent six months carefully studying and shadowing Caring Transitions in the Colorado market before the Mains opened Caring Transitions in Sioux Falls. She had planned to buy an existing franchise as the owner retired but, at some point, as she was managing her own downsizing, liquidation and estate sale, it occurred to her that she and Dan could go and live anywhere.
"My family, a sister with health issues, and a desire to live in a smaller town, led me to Sioux Falls, South Dakota. Dan and I are South Dakota natives, so we've come full circle and come back to our roots here," Mary said.
Caring Transitions' services are perfect for seniors moving in with family or into a safer living situation as well as busy families and people clearing out the home of a loved one who has moved into assisted care or passed. All of Caring Transitions' services are customizable, so clients only pay for the services they need – whether that means managing the entire move and estate-clearing or just getting someone resettled into their new place.
Caring Transitions is bonded, insured and their W2 employees have been background checked. For additional information, call (605)254-0756, email MMain(at)CaringTransitions.com or visit http://www.CaringTransitionsSiouxFalls.com.
About Caring Transitions
Caring Transitions, founded in 2006, is the first national franchising concept specializing in senior relocation and transition services. With more than 200 locations throughout the United States all owned and operated by Certified Relocation and Transition Specialists, Caring Transitions provides clients with supportive moves, auctions, rightsizing and transitions. This includes expert advice plus a well-executed transition plan beginning with the initial sorting of personal belongings through packing, shipping and selling of items to the final clearing and cleaning of the property. For more information, visit http://www.caringtransitions.com or visit us on Facebook.