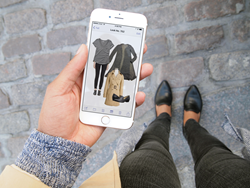 Since Polyvore's closure, we've seen an uptick in feedback from former Polyvore customers who used Polyvore to create outfit ideas and are moving to Stylebook as a new place to save their collages.
PRINCETON, N.J. (PRWEB) April 11, 2018
As Polyvore customers discover that the service has been discontinued, some are turning to the closet organization app Stylebook to start creating outfit collages again. Stylebook offers more stability because users have complete control over their data, which is saved directly to their iPhone or iPad, with Apple's iCloud backup feature ensuring no data is lost if a device is replaced, stolen or lost. This approach also eliminates the possibility that images will be lost due to the remote deletion that left many Polyvore customers unable to retrieve their outfits.
For those previously using Polyvore to create sets and explore their style, Stylebook is an appealing alternative. The app features tools that allow users to collage clothing images into magazine-style layouts. Unlike Polyvore, Stylebook focuses on allowing users to create outfits using photos of the clothes they actually own - though it still lets them save items from store catalogs and online.
Stylebook's Shop feature provides access to over 2 million clothing items. Its advanced shopping search allows the user to narrow down product photos by style, color, brand, keyword and more, making it easy to find an exact product. Mac users can also instantly paste online images from a Mac directly into Stylebook on their iPhone or iPad. These tools offer more flexible ways to achieve what Polyvore's clipper tool did.
"Since Polyvore's closure, we've seen an uptick in feedback from former Polyvore customers who used Polyvore to create outfit ideas and are moving to Stylebook as a new place to save their collages," said co-founder Jessica Atkins. "While our product is not social, I actually think Stylebook is a better match for them because Stylebook's tools use hard data to help people see patterns in how they actually use their real clothes. The real benefit of outfit collages emerges when they save outfits using their actual wardrobe."
Stylebook's robust set of tools goes far beyond Polyvore's: after outfits are created, they can be saved to an outfit planning calendar; organized in packing lists; and the user can see automatically generated statistics about their outfits to gain insight into their personal style. Stylebook can also generate outfit ideas. All of these features encourage the user to mix and match what they have to get more out of the clothes they already own. "This takes outfit collaging beyond playing with a fantasy wardrobe and transforms it into a powerful tool to improve personal style, get dressed faster and save money," Atkins said. "Polyvore customers may find this is what they wanted all along."