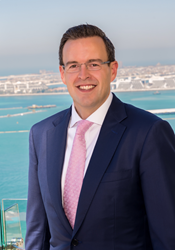 Dubai, United Arab Emirates (PRWEB) April 10, 2018
Haute Residence welcomes prominent real estate professional, Andrew Cummings to its invitation-only real estate network. As a Haute Residence partner, Cummings exclusively represents the high-end market in Dubai, the United Arab Emirates.
Co-Founder and Managing Director of LuxuryProperty.com, Cummings markets in excess of $6 billion of on- and off-market real estate assets in Dubai and across the world. He represents the most exclusive and high-profile properties in Dubai, specializing in areas such as Emirates Hills (the Beverly Hills of Dubai), the Palm Jumeirah and Burj Khalifa.
More than an experienced broker, Cummings is a trusted advisor and partner to his clients, who range from local business magnates to international high net worth individuals. He doesn't just sell property, he curates an entire lifestyle for his clientele, whether they are looking for a family home or just a vacation getaway for a few months out of the year.
Drawing on his background in consulting, Cummings deploys a solid data-driven approach and is an in-depth student of both local and international markets. Combining a finely honed knowledge with a ready access to some of the finest properties on and off the market, Cummings develops marketing solutions that fit both buyers' and sellers' needs. He finds the right balance of online and offline activities to reach the widest audience and to achieve the best results. He is also a deft negotiator, able to leverage his market expertise and secure the very best price for his clients.
Prior to moving into real estate, Cummings was a senior government official, having served as an advisor on the Middle East and North Africa to two UK prime ministers. Upon leaving the government sector, he built a successful career providing government advisory services across the globe. Cummings' extensive experience across MENA, Europe, Africa and North America has been put to good use since switching to real estate with LuxuryProperty.com's international portfolio, rapidly expanding to over a dozen countries from the US to Europe and Canada to Malaysia.
When not selling some of the finest and most exclusive properties in the world, Cummings enjoys a good round of golf (which can also double as a strategy meeting), supporting England's rugby team, traveling and spending time with his lovely wife Sabrina.
About Haute Residence:
Designed as a partnership-driven luxury real estate portal, Haute Residence connects its affluent readers with top real estate professionals, while offering the latest in real estate news, showcasing the world's most extraordinary residences on the market and sharing expert advice from its knowledgeable and experienced real estate partners.
The invitation-only luxury real estate network, which partners with just one agent in every market, unites a distinguished collective of leading real estate agents and brokers and highlights the most extravagant properties in leading markets around the globe for affluent buyers, sellers, and real estate enthusiasts.
HauteResidence.com has grown to be the number one news source for million-dollar listings, high-end residential developments, celebrity real estate, and more.
Access all of this information and more by visiting: http://www.hauteresidence.com
About LuxuryProperty.com:
LuxuryProperty.com is Dubai's Luxury Brokerage, connecting local and international clients to the most exclusive properties in Dubai and across the globe.
A dynamic digital destination, LuxuryProperty.com lists an exclusive portfolio of over $6 billion of on- and off-market properties across the globe. As a brokerage, LuxuryProperty.com specializes in delivering exceptional private client advisory services with an emphasis on professionalism and discretion. The company also offers a bespoke real estate search and acquisition service through its exclusive Private Client Office.
LuxuryProperty.com is dedicated to curating and showcasing the very best in luxury living.
For more information: http://www.luxuryproperty.com