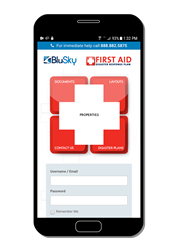 "We work regularly with property and facility management clients across the United States," said Michael Riek, BluSky vice president of sales and marketing. "They've told us they're worried about not being adequately prepared in the event of a disaster."
CENTENNIAL, Colo. (PRWEB) April 11, 2018
BluSky Restoration Contractors, LLC today announced a major update to its First Aid Disaster Response Plan software.
"We work regularly with property and facility management clients across the United States," said Michael Riek, BluSky vice president of sales and marketing. "They've told us they're worried about not being adequately prepared in the event of a disaster."
To address those concerns, BluSky developed First Aid 2.0. This new software release is a robust, intuitive application that gives clients the ability to plan ahead by creating and storing disaster plan protocols directly in the software. Those plans are then easily accessible from any PC, smartphone, or tablet, according to Riek.
First Aid 2.0 will also enable users to load floor plans, property maps, and technical schematics related to properties, and then annotate the drawings for the benefit of maintenance and engineering professionals, as well as BluSky Restoration personnel who respond to any issues that arise.
The enhanced software is one component of BluSky Restoration Contractors' comprehensive First Aid Disaster Response Plan. By planning in advance of a disaster, clients can reduce financial losses, provide a safer living and working environment, and ensure their assets can return to operating at full capacity as quickly as possible.
About BluSky Restoration Contractors LLC:
Centennial, Colorado-based, BluSky Restoration Contractors, LLC provides restoration, renovation, environmental and roofing services to all commercial and multifamily real estate classes across the U.S. and Puerto Rico.