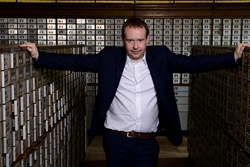 "It's great to be included in this list of successful companies. We're focused on reinvesting profits to grow the company and this is only the start."
Birmingham, West Midlands (PRWEB UK) 12 April 2018
BullionByPost, 'The UK's Number One Online Bullion Dealer', based in the West Midlands, has made it into the Sunday Times BDO Profit Track 100 list. The league table ranks Britain's 100 private companies with the fastest-growing profits over their latest three years. It is compiled by Fast Track and published as a supplement in The Sunday Times each April.
The company, founded by Birmingham entrepreneur Rob Halliday-Stein in 2009, saw one of its best days trading when Donald Trump won the US election. Back in 2016, that led to financial uncertainty around the world and meant that investors turned to gold as a safe haven for their finances. It meant that, in a single day, BullionByPost recorded sales of almost £10m.
BullionByPost has been ranked in at number 92 out of all the companies in the UK thanks to all the hard work and commitment of its staff and management team based at the company's headquarters in the heart of Birmingham City Centre.
Founder and Managing Director, Rob Halliday-Stein said: "It's great to be included in this list of successful companies. We're focused on reinvesting profits to grow the company and this is only the start."
Despite Brexit, the company is expanding internationally too which will see the number of people employed in the city double, from 50 staff to 100, in the next eighteen months. The company's launched in France, Ireland, across Europe and in the USA too. Italy and Spain are currently in the pipeline and are due to be launched in the next few weeks.
He added:
"I am clear that, as far as the business is concerned, Brexit certainly is not going to slow us down as we head into the future.
"Whatever happens; a good deal, a bad deal or even no deal at all – we see the UK as a fantastic place to build a global ecommerce business and that is what we will continue to do.
"In fact, I launched The Fine Jewellery Company a little under eighteen months ago. I saw it was a natural progression from being the UK's number one online bullion dealer, with a passion for providing great customer service. We wanted to disrupt the jewellery market which has traditionally worked on inflated margins. In fact, Rose gold Earrings have sold particularly well for us "
Halliday-Stein added:
"This is just the start. There are a lot of ambitious plans for the future of the company. I started with the original aim of being 'The UK's Number One Online Bullion Dealer'. We had a clear vision that that was possible, and we firmly achieved that a long time ago.
"We are now looking forward to the next stage of the business and our vison is to become the world's most respected online precious metals business. We are broadening it out in terms of geography".
The gold market has been steady, but the big indicator for gold's strength is the US Dollar. The weakness of the Dollar has still seen gold go up by nearly $75 per ounce in a year, so while the Pound is artificially stronger due to this weakness, the gold price is ultimately stable against these key currencies
Last year alone, the company turned over £125m which is an outstanding achievement for a small company such as BullionByPost. The company aims to double that turnover as it expands into even more countries.
Rob added:
"The expansion of the business is an exciting time for us. However, Birmingham will remain as our headquarters as it has so much to offer and there is so much to look forward to here.
"The city has great transport links and more people are choosing to live and work in our great city. With the arrival of HS2 on the way and the Commonwealth Games in 2022 - Britain's second city is well and truly on the wold stage".
NOTES TO EDITORS:

BullionByPost was launched in 2009 in Birmingham's historic Jewellery Quarter. Founder and Managing Director Rob Halliday Stien launched the company with just £10,000
In 2016 Rob also launched http://www.thefinejewellerycompany.com selling fine jewellery online with a highly skilled team that includes fully qualified gemmologists with experience in retail, manufacture and design, gem/diamond testing and grading.