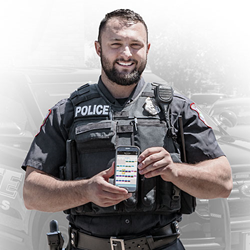 "I think the program is easy to use. (Staff) can see what shifts they're on. If they're looking to request time off, it's really clear." -- Lt. Kelly Gady, Appleton (WI) Police Dept.
DULUTH, Minn. (PRWEB) April 12, 2018
Aladtec, the provider of online scheduling and workforce management platform to hundreds of law enforcement agencies, will attend the April exposition held together with the 2018 Minnesota Police Chiefs annual conference.
This year's MPC Executive Training Institute theme is Creating Cultural Excellence. The professional development conference will be held April 22-24 at the Duluth Entertainment and Conference Center. The exposition is limited to Monday and Tuesday, April 23-24.
Headliners at the conference will discuss challenges of dealing with tragedies within and outside their departments and how they are working to build trust and community support in the wake of controversies.
Aladtec offers a cloud-based SaaS (Software as a Service) platform created specifically for Public Safety agencies. It's accessible anytime via computer, smartphone or other mobile devices with internet connectivity.
Appleton (WI) Police Dept. has used Aladtec for scheduling and communications with its 111 sworn officers and 25 civilian staff members since April, 2016. Officers appreciate being able to view schedules, request time-off or a shift-swap via a smartphone in the palm of their hand.
"When people log-in from wherever, they can be at home. Sometimes officers might notice the schedule displays an extra person beyond minimum staffing and they want to take off. Our officers do a lot of trading," said Lt. Kelly Gady with Appleton PD. "I think the program is easy to use. Staff can see what shifts they're on. If they're looking to request time off, it's really clear."
Attendees can look for River Falls, Wisconsin-based Aladtec at Booth #703. Representatives Bo Manor and Anthony Jackson will be on-hand to answer any questions and demonstrate the software. Manor and Jackson will arrange for free 14-day, customized trials.
Aladtec's platform handles complex scheduling and unique rotation requirements unique to law enforcement agencies. It allows members to submit availability, request time off, and make shift trades from anywhere. Developed in 2002, the system was initially used for crew scheduling but is now evolved to an all-in-one workforce management tool. It also features certification tracking, custom forms to which members can attach files, a document library, member discussion area, events calendar, custom reports, and optional Time Clock kiosk.
More than 2,000 organizations subscribe to Aladtec's online platform with more than 125,000 people using the system daily across America and Canada.
Among teaching sessions for police leaders:

Wayzata (MN) Police Chief Mike Risvold will share insights about how a healthy peer support network helped him and his department cope with the line-of-duty death of Officer William Mathews last year. Mathews was struck and killed by a motorist while clearing debris off a busy roadway. Chiefs from neighboring communities will discuss the challenges of managing a high-profile funeral and maintaining public safety and outreach services to a grieving department and community.
Retired Dallas police chief and author David O. Brown will talk about his book "Called to Rise". In his memoir, Brown recounts the killing of five of his officers in July 2016 and shares his personal story and deep faith in America's potential to unite communities with their police forces.
Sanford (FL) Police Chief Cecil Smith and City Manager Norton H. Bonaparte Jr. will discuss their city's ongoing struggles to change perceptions still lingering from the 2012 shooting of teenager Trayvon Martin and the acquittal of George Zimmerman.
Twin Cities' Chiefs Medaira Arradondo (Minneapolis) and Todd Axtel (St. Paul) will discuss 21st-century police politics at a Monday afternoon session.
For more information or a free demonstration, visit http://www.aladtec.com
CONTACT INFORMATION:
Steve Dzubay, Communications Director
Aladtec, Inc.
386 Arrow Court, STE. 101
River Falls, WI 54022-4595
(888) 749-5550 Toll-Free
steve@aladtec.com
info@aladtec.com http://www.aladtec.com