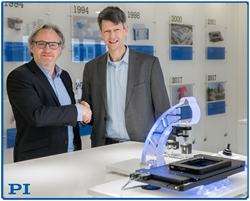 AUBURN, Mass. (PRWEB) April 10, 2018
Precision motion and nanopositioning solutions industry leader PI (Physik Instrumente) has named Dr. Thomas Bocher as Marketing Segment Head, Microscopy & Life Sciences, in Karlsruhe, Germany.
Bocher, who took on his new role on March 1st, just returned from the renowned FOM 2018 "Focus on Microscopy" conference in Singapore, where he supported PI's team and consulted with leading researchers and industry experts on new requirements and developments.
"I started work at PI in my new role with a great deal of pleasure and enthusiasm. The variety of precision positioning technology available from PI, together with years of experience in implementing customized solutions with a global outlook and the high motivation and expertise of all members of staff at PI, provide the best conditions for significant growth in this market segment!", explains Dr. Thomas Bocher.
Prior to his career with PI, Bocher held product and segment manager positions with Carl Zeiss Microscopy GmbH and Bruker BioSpin GmbH. Bocher also served as chairman of the ISO TC172 SC5 committee for international standardization in the field of light microscopy and endoscopy.
PI congratulates Thomas Bocher!
Watch the Newest PI Motion Technologies Explained
Find the Solution to Your Application
Standard and Custom
PI has in-house engineered solutions with over 4 decades of experience working with customers to provide products that meet application demands, and can quickly modify existing product designs or provide a fully customized OEM part to fit the exact requirements of the application.