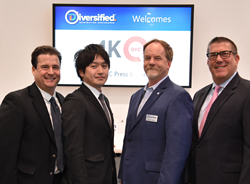 Diversified, with their proven track record of designing and building highly advanced solutions in the USA, is the perfect partner.
KENILWORTH, N.J. (PRWEB) April 10, 2018
Diversified, an industry leading American technology solutions provider with experience in 4K and IP production systems, has served a global clientele delivering innovative media and entertainment technology solutions for decades. So, when QVC Japan set out to take their tenets of Quality, Value, and Convenience to a whole new level and committed to produce their broadcast in 4K, they realized they would need significant revisions to their current technical infrastructure. Building an uncompressed 4K facility is not yet commonplace, and naturally they reached out to the Diversified team.
Leveraging their diverse resources, Diversified was able to provide experienced systems consulting services and engineering resources from the Kenilworth, NJ HQ paired with local project management and integration support from their Seoul office. This strategic move not only taps Diversified's best of breed resources throughout the entire design-build process but also optimizes the efficiency and customer experience by providing a single contact for the complex endeavor.
"This 4K facility will be the first of its kind, and our commitment to being the best requires a partnership of experienced professionals to assure success," said Joseph Micucci, QVC. "Diversified, with their proven track record of designing and building highly advanced solutions in the USA, is the perfect partner."
The native 4K production target requires a complete transformation of their existing facility in the Mihama district of Chiba city, Chiba Prefecture—located just 25 miles east of Tokyo. With a unique engineering approach, the new facility will not only be the first of its kind providing viewers with superior resolution and image quality as they conveniently shop on the network, but also one of the—if not the very--first 24/7/365 live production 4K facility in Japan.
"We are very excited to work with the QVC team on this important project," said Chris Mehos, SVP International Business Development, Diversified. "An IP based 4K facility presents many challenges given the current state of product availability and the limited number of uncompressed 4K (UHD) facilities. You don't want to set off into uncharted waters without a capable, experienced team and a strong technical plan. Our success to date has been achieved through a thorough requirements and technology vetting process and thoughtful collaboration with QVC's US Global and Tokyo based engineering team. I expect that to continue through the completion."
Some of the strategic manufacturer partners selected for this unique project include Imagine Communication's real-time IP network management solution, Arista core IP routing, Grass Valley's 4K video production switcher solution, Ikegami's 4K camera, and Avid's 4K post production technology.
The project is well underway with a substantial completion date of July 2018 to meet the go live target December 2018.
About Diversified
Diversified is an industry leading technology solutions provider delivering innovative digital media, collaborative, broadcasting, and OTT solutions to a global clientele across a wide array of markets including financial, media & entertainment, enterprise, energy, higher education, technology, healthcare, hospitality, government, and more. As an engineering-centric organization, each team of specialized technical experts partners with clients to design custom solutions that enhance their operations, increase productivity, and help drive ROI. Diversified even provides solutions that bridge the gap from today's technology to the emerging technologies, enabling clients to maximize their current investment by incorporating new strategic technical solutions.
Founded in 1993, Diversified has more than 30 offices serving Fortune 500 clients around the world. Recognized for thought leadership and strategic enterprise implementation, Diversified has been named Commercial Integrator Magazine's Integrator of the Year for 2016, appears on Enterprise Networking's Top 10 UC Solutions Providers for 2017, ranks among Inc. Magazine's fastest growing private companies for 2017, and is a pioneer InfoComm APEX certified company. From initial design consultation to deployment to managed services, Diversified is a trusted technology partner.
Learn more about Diversified's comprehensive portfolio of solutions and service offerings at http://www.diversifiedus.com.